– AFGHAN POLICEMAN KILLED 6 US TROOPS
–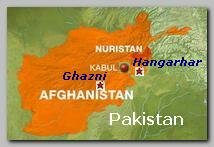 A gunman in an Afghan police uniform has killed six USA service members in Eastern Afghanistan, NATO-ISAF said, on Monday 11/29/2010. The man opened fire during a training mission in Pachir Wagam district, Nangarhar province, said NATO. He was also killed in the incident (see also – Jalalabad 11.13.10 ).
Local officials said they believed the incident was not premeditated, but had arisen out of "a misunderstanding". NATO has not revealed the nationalities of the dead soldiers, but local sources said they were American.
"An individual in an Afghan border police uniform turned his weapon against International Security Assistance Forces (ISAF) during a training mission today, killing six service members in eastern Afghanistan," Monday's statement said. "The individual who fired on the ISAF forces was also killed in the incident. A joint Afghan and ISAF team is investigating this incident."
Regional police commander Gen Aminullah Amerkhail said the area was remote and telephone lines were not working, making it hard to get accurate information on the incident.
A spokesman for the Interior Ministry, Zemeri Bashary, said the attacker was a genuine member of the border police and not an impostor, the Associated Press reports. NATO has not confirmed this.
Five British soldiers were shot dead in November 2009 in Helmand province, by an Afghan policeman, possibly a militant infiltrator, who then escaped (see – Helmand 11.03.09 ).
NATO said earlier this month it was investigating Taliban claims that an rogue Afghan soldier had shot dead foreign troops in the south of the country (see – Sangin 11.06.10 ). In July a renegade Afghan soldier shot and killed three British army Gurkhas at a base in Helmand province (see – Helmand 07.13.10 )
A week earlier another rogue Afghan soldier killed two American contractors inside a military base in northern Afghanistan (see – Mazar 07.20.10 ). NATO'S exit strategy for Afghanistan involves progressively handing over to the local security forces (see – Petraeus W Plan ).
* Related topics ;
–
10/2010 -TALIBAN INFILTARTED THE AFGHAN ARMY  
08/2010 -AN AFGHAN RECRUIT KILLED 2 SPANIARDS 
12/2009 -US SOLDIER KILLED BY AFGHANI COLLEAGUE
************************
Read more ;