– MILITANT ABDUL REHMAN KILLEED IN KASHMIR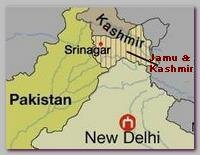 Police in Indian-administered Kashmir said that they and the army have killed Abdul Rehman – also known as Naveed a senior commander of the Lashkar-e-Toiba (LeT) militant group.
They said Abdul Rehman had been killed, along with another LeT militant, near the border town of Handwara, on Monday 11/29/2010. Abdul Rehman (Naveed) is a  LeT divisional commander for north Kashmir. Both the dead men in the encounter were said to have been Pakistani nationals.
Both men died after a joint operation was launched against the militants, they added.
Kashmir police Inspector General Shiv Murari Sahai told a news conference that the killing of Abdul Rehman had been a "big achievement for the Indian security forces and a major setback for the LeT". Police said Abdul Rehman had been active in the area for four years.
Meanwhile, police in Srinagar said three suspected militants and a policeman were killed on Monday in a gun battle. Officers said gunfire had erupted in a busy market on the outskirts of the city when a police patrol was ambushed. They said a head constable had been killed, and shoppers were sent scurrying for cover. Questions are being asked about police claims that the trio were riding a motorcycle when they were killed in retaliatory fire (see also -Srinagar 01.06.10 ).
However, police said those officers who were shot at had displayed "bravery and patience so there were no civilian casualties".
* Related topics ;
–
10/2010 -INDIA WORRIES OVER ATTACKS ON COMMONWEALTH GAMES 
08/2010 -INDIA – PEACE TALKS AFTER TERROR ENDS 
*************************
Read more ;