40 PAKISTANIS KILLED IN A FOOD DISTRIBUTION CENTER
40 PAKISTANIS KILLED IN A FOOD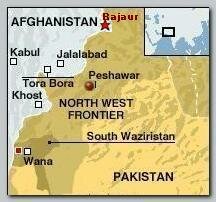 At least 40 people have been killed, on Saturday 12/25/2010 morning, in a suspected suicide bomb attack in North-Western FATA region, officials said. The blast took place in the town of Khar in the Bajaur region (see also -Bajaur 01.30.10).
Reports said the bomber targeted a crowd of more than 1,000 displaced people receiving food aid at a distribution centre. There are fears the death toll could rise further.
There have been many recent attacks in the region near the Afghan border – a Taliban and Al Qaeda stronghold.
No group has so far said it carried out Saturday's attack at the centre, used by the World Food Program and other aid agencies to distribute food to conflict-affected people in the region. International aid agencies are often considered by the Taliban as affiliated to Chritianity or foreign, especially American, intelligence agencies and are therefore treated with mistrust and hostility (see also – Oghi 03.10.10).  
Among recent other attacks, at least 11 Pakistani soldiers and 24 militants were killed on Friday after some 150 Taliban fighters attacked five Frontier Corps checkpoints in the Mohmand tribal region (see – Mohmand 12.24.10).
* Initial investigation suggested the attack was committed by a female suicide bomber who wore here explosive belt under here full-length Burka. She throw at least one hand grenade before detonating the explosive belt.    
* Tehrik-e-Taleban, the Pakistani Taliban, claime, on Sunday 12/26/2010, responsibility for the attack.  Taliban spokesman Azam Tariq said that the Salarzai tribe, where the attack took place, had formed "Lashkar" or pro government militia against the Taliban and that is why they were targeted. He also warned that Tehrik-e-Taleban will take "severe action" against any persons who form "lashkars" or militias to take on the militants in the restive tribal belt bordering Afghanistan.
All persons working with security forces and peace committees would be brought to Taliban courts and awarded punishment according to Shariah or Islamic law, Tariq was quoted as saying by the local "The Frontier Post" newspaper on Sunday.
* Related topics ; 





12/2010 -AT LEAST 50 KILLED IN U.S STRIKES IN WAZIRISTAN






12/2010 -2 BRITONS POSSIBLY KILLED IN US MISSILE ATTACK






12/2010 -11 KILLED IN A HOSPITAL BOMBING IN PAKISTAN






12/2010 -DOUBLE SUICIDE ATTACK KILLED OVER 50 IN PAKISTAN  
**********************
Read more