AL QAEDA SUSPECT KILLED IN JEDDAH SHOOTOUT
AL QAEDA SUSPECT KILLED IN JEDDAH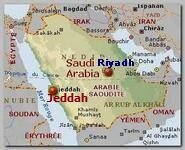 Saudi security forces shot dead a suspected Al Qaeda militant and arrested another after one of them opened fire at agents at a checkpoint, the interior ministry said on Saturday 12/25/2010.
.
One of the two men, who was disguised as a woman, opened fire after their car was stopped at the checkpoint in the central town of Wadi al-Dawasir, said Mansour al-Turki, the ministry's security spokesman.
"We have a strong suspicion it is Al Qaeda, but we are still trying to identify the dead man and questioning the detained suspect," the spokesman said.
Saudi security forces have stepped up their campaign against al Qaeda after the Islamic militant groups' Yemeni and Saudi wings merged in 2009 into a regional organization, Al-Qaeda in the Arabian Peninsula, which claimed responsibility for the failed bombing of a US-bound passenger plane last Christmas (see – YEMEN's Bombs Investigation).
In November, Saudi Arabia said it had captured 149 al Qaeda militants over several months, who were raising money and recruiting members to carry out attacks in the kingdom, the world's top oil exporter (see – SA Arrests 11.26.10).
* Related topics ; 









11/2010 -JABER AL-FAIFI'S INTEROGATION






10/2010 -A BLOW FOR SAUDIA  
***********************
Read more