– 11 INJURED IN CHRISTMAS MASS EXPLOSION IN THE PHILIPPINES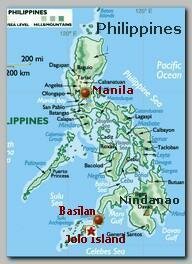 A bomb exploded inside a Catholic Church during the Christmas mass in Jolo, Southern Philippines, injured 11, on Saturday 12/25/2010 at about 07:20, according to local news sites. Joint Task Force Acting Commander Col. Romeo Tanalgo said to local reporters the explosion came from an improvised explosive device on the ceiling of Sacred Heart Chapel in Barangay Asturias, Jolo, Sulu, at around 7:20 a.m., while a Christmas day mass is going on. 
Meanwhile, the military said the incident took place despite the tight and strict securities with the area, and no suspicious-looking individual or group were seen before the explosion, but vowed to provide more security measures. 
Jolo, Sulu
, which is located in

Southern Mindanao

, is being known to have been among the nests of the local terrorist group Abu Sayyaf (see also – Jolo 02.21.10 ).
* Related topics ; 
12/2010 -CHRISTIANS EXODUS FROM IRAQ 

09/2010 – ABDUkARIM SALI KILLED IN THE PHILIPPINES 

04/2010 -

3 ABU SAYYAF KILLED IN ISABELA CLASHES
*********************