ABU-RAMIZ SAHMARANI FOUND DEAD IN SOUTH LEBANON
ABU-RAMIZ SAHMARANI FOUND DEAD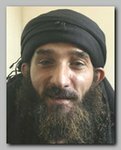 Abu Ramiz Sahmarani, also known as Ghandy al-Sahmarani, was born in the late 50s' and was a local leader of Jund al-Sham in the Palestinian refugee camp Ain al-Hilweh near Sidon, South Lebanon. He was found dead in his car, his eyes blindfolded and his hands tied behind his back, shot in his head in an execution style, on Saturday 12/25/2010.
Abu Ramiz Sahmarani was a long time wanted by the Lebanese authorities for terror attacks, weapon smuggling and affiliation to Al Qaeda.
Abu Ramiz Sahmarani, originally from the Lebanese Northern town of Tripoli, was one of the most wanted militant leaders after his "Army of Al-Shariaa (Islamic law)" group's confrontation against the Lebanese government in 2000 (see – Bassam Kanj). Abu Ramiz Sahmarani was also responsible in leading attacks against the Lebanese army during the NAHR AL-BARED events in 2007.
In an interview in 2007 Abu Ramiz Sahmarani denied ties to al-Qaeda "It is untrue that we have been trained by al-Qaeda. Those who went to Iraq are ordinary folks. I would have gone had I been able to."

He also denied any relation with the "infidel Syria Baath regime", adding "I do not think that we, as Muslims, would accept any money from lay MPs affiliated to an infidel regime".
Abu Ramiz Sahmarani
has enemies all over; opponents in Ain al-Hilweh, led by Munir Maqdah, Syrian agents, Lebanese security apparatuses, Israeli agents and/or collaborators and the Shiaa Hizbullah. It is therefore unclear who was behind the killing of
Abu Ramiz Sahmarani. 





08/2010 -ABD-AL-RAHMAN AWAD KILLED IN LEBANON






01/2009 -ROCKETS FIRED FROM LEBANON TO NORTHERN ISRAEL









******************************** 
Read more