2 YEMEN JIHADISTS KILLED IN GAZA
2 YEMEN JIHADISTS KILLED IN GAZA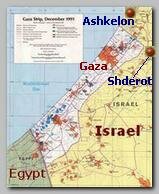 Following the ongoing dripping of mortar shells and rockets from Gaza Strip on Israeli villages (an average of 30 shells a week) Israeli Air force attacked a complex of tunnels in Rafah, on the Egyptian border. The Rafah Tunnels are used to smuggle all kinds of goods including large amount of Iranian made weaponry into Gaza and to export among ther things, terror squads from Gaza to Egyptian Sinai to attack valuable targets in Sinai or to infiltrate back into Israel through the long desert border between Egypt and Israel in order to carry out terror attacks inside Israel.
Israeli Intelligence sources said that among 6 Islamic Jihad activists killed in an air strike on Rafah Tunnels, on Sunday 12/25/2010, there were also two foreigners, assumed to be Yemenites who joined one of Al Qaeda inspired groups in Gaza known as Jaljalat. The Palestinians confirmed two unidentified men were killed by the IDF but said that according to their "un-Muslim" tattooing they are not from Yemen and they were killed trying to penetrate the fence into Israel.  
In yet another response Israeli UAV killed, on Tuesday 01/11/2010, near Khan Yunis in the southern part of Gaza Strip the PALESTINIAN Islamic Jihad activist, 24-year-old Mohammed Najar. Security sources said that Mohammed Najar was part of a terror cell involved in planning a large-scale attack inside Israel. "His assassination will hopefully prevent that attack," one official said. Mohamed Najar was already wounded fighting Israeli forces during OPERATION CAST LEAD.
Also on Tuesday morning another rocket fired towards Israel landed in an open area south of the town of Ashkelon. There were no reports of injury or damage.
* Related topics ;





11/2010 -MUHAMMAD YASSIN KILLED BY IDF IN GAZA






11/2010 -EGYPT NABBED A TERROR CELL IN SIANI





***************************
Read more