30 KILLED IN KUNDUZ SUICIDE BLAST
30 KILLED IN KUNDUZ SUICIDE BLAST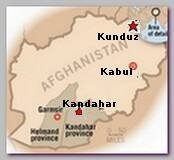 At least 30 people have died after a suicide bomber targeted a government building in northern Afghanistan, on Monday 02/21/2011. The attacker struck as people lined up to collect identity cards in the Imam Saheb district of Kunduz province, a local official said (see also -Kunduz 01.30.11). The attack comes two days after a deadly blast hit the city of Jalalabad (see – Jalalabad 02.19.11).
The bomber detonated his explosives at the entrance to the government building at midday, Imam Saheb's police chief Abdul Qayum Ebrahimi told the Associated Press news agency.
The insurgency in Afghanistan is still fiercest in the South and East, but security has been deteriorating in the once-peaceful North in the past few months. The latest attack in Kunduz seems to have a similar motive to kill and scare those with any links to the government.
Civilian and military casualties in Afghanistan are at levels not seen for a decade – last year, more than 2,400 civilians died.
The blast comes as controversy erupted over NATO-ISAF air strikes in eastern Afghanistan. Local officials accused NATO of killing scores of civilians in air strikes in Kunar province on Sunday (see -Kunar 02.20.11).  
Also on Monday 02/21/2011, first U.S UAV attack in a month kills at least seven, further testing diplomatic ties between Washington and Islamabad,
a suicide bomber killed 10 policemen in Samara, Iraq and another suicide car bomb attack on a government security base in Somalia's capital Mogadishu causes police and civilian casualties.
* Related topics ;





02/2011 -ROGUE AFGHAN SOLDIER KILLED NATO COLLEAGUE






02/2011 -7 CHARGED WITH SUPPORT TO TALIBAN






02/2011 -TALIBAN'S TIDE IN HELMAND RETREATING






02/2011 -15 POLICEMEN KILLED IN TALIBAN RAID 
*******************************
Read more