– HIZBALLAH ACTIVITY IN KUWAIT UNCOVERED
–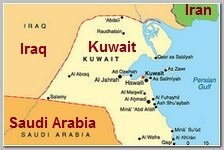 Kuwaiti media reported, on Sunday 08/16/2015, the seizure of a massive weapons cache this weekend, during a raid on an alleged Lebanese Shiite group Hezbollah sleeper cell in the country.
Kuwait's Interior Ministry said it found ammunition, explosives and grenades under several houses along the Iraqi border, according to Reuters new agency, prompting the arrest of the three men who owned the buildings.
This raid is par the course for the country's current system. In June, it declared war on all hard-line militant groups. The ministry said they believed the weapons were transferred from Iraq through Iranian proxies operating there.
Hezbollah, whose forces have fought alongside Syrian government and Iranian militia troops in Syria, has purportedly shown up in Kuwait, a Gulf country and member of the Gulf Cooperation Council (GCC), in which Saudi Arabia has a strong presence.
Three days earlier, on Thursday 08/13/2015 , the Bahraini Interior Ministry confirmed it had arrested 6 individuals suspected of conducting a bomb attack in Bahrain, according to the country's official news agency.
The ministry added that a further five people, who received financing and training from Iran's Revolutionary Guard and Hezbollah in Iraq, had also been identified in connection with the incident. In J07/2015, a bomb exploded in the Bahraini Shiaa village of Sitra, killing two people and wounding six others outside a girls' school .
Related topics ;
06/2015 – ISIS CLAIMS KUWAIT'S SHIA MOSQUE BOMBING
03/2015 – YET ANOTHER SHIA-SUNNI WAR – YEMEN
03/2013 – NEW DIMENSION IN THE MEAS"T
03/2012 – THE SHIITE ARC, CHAOS IN THE MEAS"T
—————————-
Read more ;
ALBAWABA
AL-ARABIYA
AL-ARABIYA-B