GRAD ROCKET FROM GAZA HIT BEER SHEVA
GRAD ROCKET FROM GAZA HIT BEER SHEVA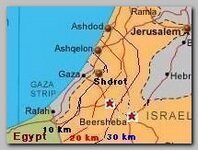 Beer Sheva, is one of the largest city in Israel, the Capital of the Negev, the half Southern part of Israel with a population of about 220,000 with a regional hospital and a university. Beer Sheva is located less than 40 km from Gaza strip.
A Grad rocket fired from the Gaza Strip, on Wednesday 02/23/2011 night, has landed in a residential street in the Israeli city of Beer Sheba. Israel responded with air strikes in the Gaza Strip, officials on both sides said.
A rocket launched from the Gaza Strip on Wednesday caused serious damage to houses and cars but no casualties, Beer Sheba Mayor Rubik Danilovich said.
Earlier reports said the rocket had struck a house. Due to siren the resident of the house managed to reach the shelter seconds before the Grad hit their home. A second Grad rocket exploded in an open field in the town of Netivot (see also – Ashkelon 07.30.10).
Israel responded with a number of air strikes late into the night and there was a constant sound of jets flying overhead, Gaza residents said.
The barrage is probably coincided with the crossing of Iranian war ships in the Suez Canal two days earlier, The first such crossing since the fall of the Shah in 1979 and the visit of the Iranian Navy chief Adm. Habibollah Sayyary in the Syrian port of Latakia to inspect his ships and to hold talks with Military and security officials in Lebanon and Syria. It is assumed that the barrage was aimed to test Israel (see also – EgYpt's Victory Day).
Just two weeks ago Islamic militants blew up the gas pipeline from Egypt to Israel and Jordan in the Town of El-Arish (see – El-Arish 02.05.11).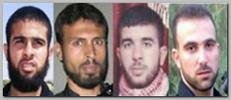 * On Tuesday 03/22/2011, Israeli reconnaissance unite located a squad of Al-Quds Battalions, the military wing of the PALESTINIAN Islamic Jihad, preparing another heavy rocket to be launched toward Israel in the outskirt of Zaytun neighborhood of Gaza. The squad was attacked by IDF and all 4 operatives were killed. According to Israeli intelligence sources they were the same squad that fired the rocket to Beer Sheva. In the exchange of fire a teenager and a Palestinian 10-years old boy, were killed too.
The dead were named as Mohammed Abed, Saada Heles, Mohammed Atya al-Harazine and the ringleader Adham al-Harazine. Adham al-Harazine was described as the operative who launched the first ever Katiusha rockets toward Israel from Gaza Strip about 6 years ago. He was also in charged on a long series of attacks against Israel including the  booby-trapped Palestinian fishing boat exploded off, near the Gaza coast as it headed north toward Israeli territory in an apparent attempted terror attack, on Monday 04/13/2009 (see -Gaza 04.13.09).    
* Related topics ;





02/2011 -MIDDLE  EAST CHAOS









01/2011 -GAZA'S ARMY OF ISLAM BEHIND ALEXANDRIA  BOMBING





*******************************