– AYATOLLAH SISTANI : IRAQ FACES POSSIBLE PARTITION
–
Iraq's top Shiite cleric, Grand Ayatollah Ali Sistani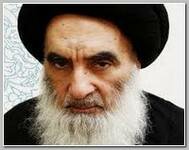 , warned on Thursday 08/20/2015 that the country faces dire consequences including possible "partition" if real reform is not carried out.
Sistani, who is revered by millions, has made multiple calls for reform measures this month that have helped spur a wide-ranging anti-corruption drive by Prime Minister Haider al-Abadi.
"Today, if true reform is not realized by fighting corruption without mercy and realizing social justice on different levels, it is expected that circumstances will become worse than before," Sistani said in a written statement from his office in response to questions from AFP.
It was Sistani's most direct warning yet on the possible consequences if reforms he has advocated are not carried out.
Ayatollah Ali al-Sistani is the second influential person to raise the issue of the partition of Iraq. US Army General Raymond Odierno The U.S. Army's outgoing chief of staff. who once served as the top U.S. commander in Iraq and retires Friday 08/13/2015 after nearly 40 years in uniform, warned, during his final press conference at the Pentagon on Wednesday 08/11/2015, that reconciliation between Shiites and Sunnis in Iraq is becoming harder and that partitioning the country " might be the only solution."
Related topics ;
08/2015 – THE CURRENT STAGE OF THE MIDDLE EAST
06/2015 – U.S LACKS FULL STRATEGY !?
03/2015 – THE CONFUSION OVER THE BATTLE OF TIKRIT
08/2013 – NEW DIMENSION IN THE MEAS"T
—————————
Read more ;