– 4 ROCKETS FIRED, DELIBERATELY, FROM SYRIA TO ISRAEL
–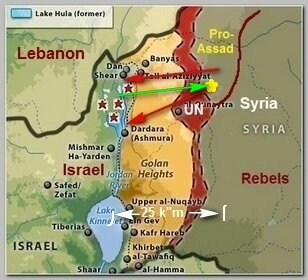 Alert sirens sounded, on Thursday 08/20/2015 at about 17:30 local time,  in several locations in northern Israel after 4 rockets had been fired, landing in the Upper Galilee and the Golan Heights. from the Syrian side of the Golan Heights in the first such attack since 1973.
The IDF said it believed the firing was deliberate and that it was considering retaliatory fire. It also said the firing originated in Syria's Quneitra area, which is under Syrian President Bashar Assad's control and in which according to reports,
Intelligence sources said the rockets were fired by the PALESTINIAN Islamic Jihad, a Sunni organisation, strangely nowadays,    backed by Shiite Iran and cooperates with the Hizbullah .    
Earlier Thursday, the IAF announced it had deployed an Iron Dome missile defense battery to Ashdod in southern Israel. Gaza security coordinators received warnings Wednesday 08/19/2015 of possible rocket fire from the Gaza Strip due to the deteriorating condition of Mohammed Allaan, a suspected member of  the Gaza-based Palestinian Islamic Jihad, a suicide bombers recruiter and trainer from Nablus in the West Bank who ended his hunger strike Wednesday after more than two months, when Israel declared it was suspending his administrative detention because he had suffered brain damage..
 The administrative detention order was issued in order not to expose or unveil the delicates intelligence sources and the Modus Operandi of the Israeli Security Service known as Shin.Bet
After few hours Israel responded to the shelling by attacking, with special precise artillery rockets  14 positions of the Syrian Army and its affiliates in the part of the Syrian Golan Heights still controlled by Assad's regime.
Next day, Friday 08/21/2015 morning, Israel fired a missile from a UAV drone killing 4 members of the Islamic Jihadist group responsible for the rocket attack a day earlier, according to IDF sources. The attack took place 15 kilometers inside the Syrian Golan Heights North-East to Quneitra,
Related topics ; 
08/2015 – THE BATTLE OF LATAKIA – THE LATEST STAGE IN THE SYRIAN WAR 
05/2015 – AL-NUSRA, ALLEGEDLY, AIMING ONLY AT ASSAD'S REGIME  
04/2015 – ISRAEL STRUCK IN SYRIA'S QALAMOUN MOUNTAINS 
03/2015 – SENIOR HIZBULLAH AND IRANIAN OFFICERS KILLED 
—————————–
Read more ; 
YNETNEWS-IL  
JERUSALEM POST-A  
JERUSALEM POST-B