– MOHAMED HERSI ARRESTED IN CANADA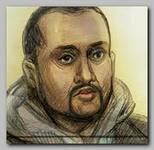 Mohamed Hassan Hersi was arrested, on Tuesday 03/29/2011, on terror charges at a Toronto airport on his way to Somalia to join a militant group there, according to Canadian police.
Mohamed Hassan Hersi, 25, a resident of Toronto's east end Scarborough neighborhood, was arrested at Pearson International Airport as he boarded a plane to Cairo, Egypt, said Inspector Keith Finn of the Royal Canadian Mounted Police at a press conference Wednesday.
Police allege that his final destination was Somalia, where he planned to join al-Shabab. Mohamed Hersi, a Canadian citizen who quit his job in preparation for the trip, was traveling alone and did not resist arrest, Finn said.
Mohamed Hassan Hersi was charged under Canada's anti-terrorism law for attempting to participate in terrorist activity and for providing counsel to a person to participate in a terrorist activity, said Finn, who heads the RCMP's Ontario Integrated National Security Enforcement Team.
The arrest was the culmination of a six-month investigation of Hersi known by police as "Project Severe." Police were tipped off to Mohamed Hersi's alleged involvement with terrorist organizations in 09/2010, said Toronto Police Superintendent Tom Fitzgerald.
Police have seized evidence from Mohamed Hersi but would not elaborate on what items were taken. "There was nothing within the investigation that would suggest a direct threat to Canadians within Canada," Finn said.
"However, the issue of radicalization and of people from Canada traveling overseas and receiving that type of further indoctrination and training remains a concern."
* Related topics ; 
03/2011 -SOMALI SNUGGLED MILITANTS TO U.S  

03/2011 -FERID IMAM & MAIWAND YAR CHARGED WITH TERROR 

01/2011 -MUHAMMAD ISA TO FIGHT HIS EXTRADITION TO U.S 

12/2010 -12 SOMALIS ARRESTED IN HOLLAND OVER TERROR  

PROFILE -SAYFILDIN TAHIR SHARIF
*******************************
 Read more  ;