– MAULANA SHAUKAT SHAH KILLED IN KASHMIR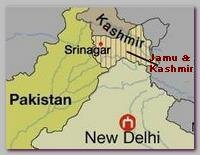 A prominent religious leader in Indian-administered Kashmir,  Maulana Shaukat Ahmad Shah, has been killed by a bomb outside a mosque in Srinagar, on Friday 04/08/2011 at about 12:30, officials said.
Maulana Shaukat Ahmad Shah, the head of Jamiat-e-Ahle Hadith, a local Islamic association, was nearing the Mosque when the bomb went off. At least one other person was hurt. It is not clear who carried out the attack. The cleric was close to moderate separatist leader Yasin Malik.
The blast follows a lull in separatist violence in Kashmir, which is claimed by both India and Pakistan.
Although the exact cause of the explosion is being investigated police suspected that militants led, probably, by Abdullah Uni have used an IED planted on a bicycle near the rear entrance of the Mosque where Shaukat Shah used to lead the Friday prayers.
* Related topics ; 
12/2010 -MUMBAI ON ALERT – HUNTING 4 ISLAMIC MILITANTS 

12/2010 -INDIA TO ISSUE WARRANTS AGAINST PUNE SUSPECTS 
**************************************
Read more ;