4 PAKISTANIS CHARGED IN U.S OVER MUMBAI ATTACK
4 PAKISTANIS CHARGED IN U.S OVER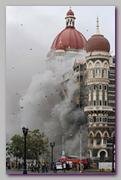 Four Pakistanis have been charged in absentia, on Monday 04/25/2011, as co-conspirators in the 2008 attack on Mumbai Carnage, in 11/2008, that killed 166 people, including six Americans, US prosecutors said in Chicago.
The four had been previously mentioned, but not named, in indictments charging American David C. Headley and Tahawar H. Rana, Pakistani-born Chicago businessman, with helping to identify targets in India's commercial capital.
All of the four newly-indicted figures are linked to the Pakistan-based Lashkar-e-Toiba, the armed group that is blamed for the attack on Mumbai. Those newly indicted were Maj Sajid Mir, aka
Major Iqbal
,
Abu Qahafa
,
Mazhar Iqbal
, and a fourth defendant"
All four are believed to be in Pakistan.They were charged with six counts of aiding and abetting the murder of US citizens.
* In a Chicago court, on Wednesday 05/25/2001 David C. Headley identified Maj. Sajid Mir and a figure known as "Major Iqbal" as two of the handlers of the Mumbai Carnage perpetrators.
* Related topics ;





12/2011 -9 CHARGED IN INDIA OVER 11/2008 MUMBAI CARNAGE






10/2010 -FBI MISSED LEADS TO AVERT MUMBAI 2008 ATTACK









11/2009 -PAKISTAN CHARGED 7 OVER MUMBAI CARNAGE






PROFILE -CHARLES  WARDLE  
******************************