IRAQ'S CONTINIOUS BLOODSHED
IRAQ'S CONTINIOUS BLOODSHED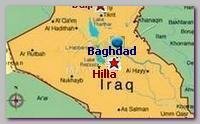 Two days after a car bomb in a Shiaa suburb of Baghdad killed 9 and injured 27, on 05/03/2011, another suicide bomb attack, on Thursday 05/05/2011, in Hilla, Iraq outside a local police station has killed at least 16 people and injured more than 40. Most of the casualties are local police officers (see also – Hilla12.24.09).
The attack took place during a shift change, when many police officers were outside the building. 
Hilla is a mainly Shia
a
city and has in the past come under attack by Sunni militants.
* Related topics ;





03/2011 -55 KILLED IN TIKRIT COUNCIL SIEGE












02/2011 -27 KILLED IN IRAQ BY A SUICIDE BOMBER 

 
*****************************