CROSS-BORDER TALIBAN RAID KILLED DOZENS
CROSS-BORDER TALIBAN RAID KILLED DOZENS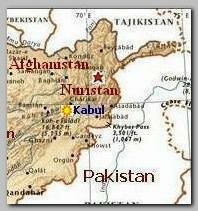 At least 78 people have been killed in heavy fighting between the Taliban and security forces in the Afghan province of Nuristan, officials said on Wednesday 07/06/2011 (see also – Nuristan 05.26.10).
Provincial Governor Jamaludin Badar siad that 33 border police had been killed in two days of clashes. He said 40 insurgents and five civilians had also died after more than 150 heavily armed insurgents, including Chechen volunteers, attacked from bases in Chitral in Pakistan. Governor Badar said dozens of police were still missing and casualty numbers could rise. Police said they are looking for 20 officers who either made a tactical withdrawal or were taken hostage.
Cross-border attacks are fuelling tensions between the neighbors. Afghanistan also accuses Pakistan of launching hundreds of rockets into its territory.
Earlier on Wednesday, police in north-west Pakistan said that a group of more than 200 militants crossed the border from Afghanistan and attacked villages in Upper Dir in Khyber Pakhtunkhwa province. The insurgents burned down a school and clashed with villagers.
Correspondents say it is difficult to corroborate the claims of either side, but it is not disputed that the militants have expanded their control in Nuristan in recent months and control the main road to the provincial capital.
According to intelligence officials in Nuristan, insurgents attacked border police checkpoints using heavy machine guns and rocket propelled grenades, in the district of Kamdesh. USA forces withdrew from the area earlier this year.
NATO-ISAF said that it has provided close air support on Tuesday night after the police observation posts came under attack.  
The Taliban deny the attack was launched from Pakistan, insisting that the raid was carried out by militants based in Afghanistan.
On Tuesday, outgoing NATO commander Gen David Petraeus said the focus of the war was shifting from Taliban strongholds in Southern Afghanistan to the eastern border with Pakistan (see – Obama's Withdrawal).
The Taliban attack was carried out just as Pakistani troops were launching yet another offensive against Taliban strongholds in FATA region along the Afghan border in Kurram province with, probably, very little effect (see -Kurram 2011 Offensive).
* Related topics ;











06/2011 –8 YEARS OLD GIRL USED AS A BOMB






06/2011 –60 KILLED IN HOSPITAL BOMBING IN LOGAR, AFGHANISTAN
*********************************
INDIATIMES