– DOUBLE SUICIDE ATTACK KILLED 7 IN GROZNY, CHECHNYA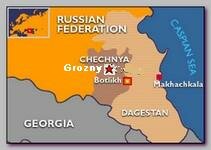 At least seven people have died and 15 have been injured in two suicide attacks in the Chechen capital, Grozny, reports said on Tuesday 08/30/2011.
According to Interfax news agency, the attacks took place during celebrations in the troubled Muslim region of Russia to mark the end of Ramadan. Five of those who died were police officers. An emergency official and a civilian were also killed.
The first bomber detonated his explosives when detained by police. The second set off his device shortly afterwards. Both blasts took place in a densely populated district of Grozny, some 50m from a local parliament building (see -Grozny 10.19.10).
Chechnya's Kremlin-backed leader Ramzan Kadyrov said the attackers had chosen "the most sacred day for all Muslims" and said they had "shown their real faces" (see – Kadyrov Assassination).
Correspondents say the incident in the capital Grozny is a reminder that the region is far from stable. Last year, Moscow declared victory against Chechen separatists and there has been a relative lull in the violence under Mr Kadyrov.
But the whole North Caucasus is seeing an insurgency led by Islamist rebels, correspondents say.
* Related topics ;  
–
08/2011 –

RUSSIA FOILED TRAIN BONBING PLOT

 
04/2011 –KHALED AL-EMIRATE KILLED IN CHECHNYA
04/2011 –ISRAPIL VALIDZHANOV KILLED IN DAGESTAN
***********************************
Read more ;