– YEMEN BATTLES AL QAEDA STRONGHOLD IN ABYAN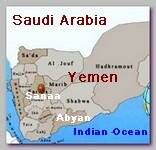 Mountainous Abyan province in Southern Yemen is considered for many years as the stronghold of Al-Qaeda in the Arabian Peninsula, similar to FATA region in Pakistan. Following the Yemen unrest and the New Arab world Al Qaeda in Yemen seized several villages in Abyan driving away Yemeni troops. In the recent weeks the Yemeni army is struggling to regain control on the region (see also – Abyan 08.28.10 ).
 On Monday 08/29/2011 suspected Al Qaeda gunmen killed 10 Yemeni soldiers and wounded several others at Dofes village, near Zinjibar, Abyan's capital, which has been occupied by Al Qaeda linked fighters since the end of May 2011 (see – Zinjibar 05.29.11 ).
The next day, Tuesday 08/30/2011, Yemen's defence minister General Mohammed Nasser Ali has narrowly escaped death after his convoy drove over a landmine in the country's volatile south region of Abyan. "two soldiers were killed and four others were wounded in an explosion of a device near the village of Al-Kud," a government official told the Reuters news agency.
Ali "escaped unhurt," said the official, adding the two men who were killed were bodyguards of the south's military commander, General Mehdi Maqwala, who had been accompanying Ali.
"We have reports that Al Qaeda has planted 150 explosive devices in areas it controls, and the explosion today could be due to one of these devices," the official added.
Ali is a staunch supporter of President Saleh, who has been recovering in Saudi Arabia for more than two months from bomb blast wounds.
* Related topics ; 
06/2011 -DOZENS AL QAEDA ESCAPED YEMENI JAIL  

06/2011 -MILITANTS SEIZED ANOTHER VILAGE IN SOUTHERN YEMEN 

05/2011 -THE MIDDLE EAST WARS  

05/2011 -AL-AWLAKI ESCAPED ATTEMPT ON HIS LIFE

 

 
*****************************
Read more ;