8 YEMENI TROOPS KILLED IN ABYAN
8 YEMENI TROOPS KILLED IN ABYAN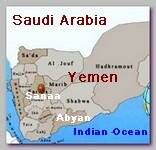 A week after 7 Al Qaeda militants were killed in Abyan province, Southern Yemen (see – Abyan 08.20.10), 8 Yemeni troops and a civilian were killed, on Saturday 08/28/2010, in an attack by Al Qaeda gunmen on an army post in the southern province of Abyan, a security official told AFP.
"Eight soldiers were killed in an attack by members of Al-Qaeda on a military post in Al-Rai neighbourhood, west of the town of Jaar in Abyan" province, the official said. "The soldiers were breaking the (Ramadan fast when four armed militants attacked them using RPG … and machine guns," the official said (see also – Al-Qaeda in the Arabian Peninsula).
Seven of the troops died on the spot while the eighth was hurt and later died of his wounds at a hospital in the town of Jaar, located five kilometres from Zinjibar, capital of Abyan province, the official added. One civilian, a government employee, was also killed in the attack, the security official said.
Earlier on Saturday, the defense ministry's website reported that gunmen had killed a soldier and wounded three others in an ambush in the southern province of Lahij.
* Related topics –  








07/2010 -3 AL QAEDA FIGHTERS KILLED IN YEMEN






07/2010 -AL QAEDA AMBUSHED YEMENI SOLDIERS 

 
ALBAWABA