– MOGADISHU FRESH FIGHTING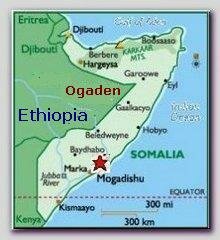 Since the Ethiopian-Somali War, in 12/2006, the basic situation in Somalia is no different then in Iraq or Afghanistan, only that the foreign forces are not from Western Democracies that, at least, try to abstain from killing innocent civilians, but an African force with African standards – the Ethiopian army fully backed by USA.
Ethiopian army and pro government Somali troops, manned mainly by tribesmen from the North, are clashing, almost every day, with Somali insurgents, former supporters of the councils of Islamic courts (CIC) and tribesmen from the Southern tribes.
The civil war in Somalia already slides to neighbor Ethiopia, where local Muslim tribes affiliated to Somalia, wage a guerilla war against Ethiopian troops in Ogaden desert. Last week in mid 10/2007 about 200 were killed, among them about 100 Ethiopian soldiers, in yet another skirmish.  
Government units control the East of Mogadishu, but the Council of Islamic Court (CIC), which was ousted in December's 2006 fighting, continues to hold some Western parts of the city, from where they launche guerrilla attacks.
After Ethiopia moved reinforcements and a convoy of 20 tanks and armored cars into Mogadishu, late on Friday 10/26/2007, and one of the vehicles was hit by a landmine and exploded – a new wave of fighting breached out in the city.
On 10/28/2007 fighting between Ethiopian and Somali government troops and Islamist forces has continued for the third day claiming the life of about 15 people and forced schools and businesses to close (see also – Mogadishu 07.11.07).
The UN says some 400,000 people have fled the violence in Mogadishu in the past four months.
* Related topics – 
07/2007 – SOMALI VIOLANCE
******************************
Read more ;