KARZAI LEANS ON INDIA AS COUNTERWEIGHT TO PAKISTAN
KARZAI LEANS ON INDIA AS COUNTERWEIGHT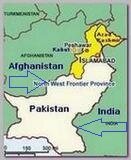 Hamid Karzai, the Afghan president, has arrived, on Tuesday 10/04/2011, in New Delhi on a two-day visit described by India as an opportunity for both countries to consolidate their strategic partnership and discuss bilateral, regional and international issues of mutual concern.
Tuesday's visit, a day after the Afghan president publically accused Pakistan of "double game" in Afghanistan, comes against a backdrop of shifting relations in the region. During his second trip to the Indian capital this year, Karzai will meet Manmohan Singh, the Indian prime minister, and sign several strategic agreements, including ones on development aid and security.
Some analysts in India predict that Hamid Karzai will elevate the role of India in stabilising his violence-torn country as he eyes a drawdown of NATO-ISAF by 2014 after more than a decade of fighting. They argue that Karzai is losing patience with Pakistan, whom he accuses of funding anti-government groups, and is unable to count on the US.

"Karzai's visit comes at a crucial juncture to endorse India's involvement in Afghanistan," Saeed Naqvi from the Observer Research Foundation think-tank told the AFP news agency. "Karzai is coming to India to confer on India the tag 'reliable ally'… India will get the right to play a more pronounced role [in Afghanistan] after Karzai's visit" he said.

The Indian Express newspaper reported on Sunday that Karzai would sign a "strategic partnership" agreement with Singh, the first such pact with any country in the world.

The proposed alliance, which foreign ministry officials declined to confirm, was said to include an Indian commitment to increase its training of Afghan security forces, including the police.

Indian involvement in Afghanistan is sensitive because of the delicate and often deadly power games in South Asia.

In a primetime national address on Monday, Hamid Karzai accused Pakistan of "pursuing a double-game", saying Islamabad is not co-operating in the battle against armed groups to establish peace in Afghanistan (see – Afghan Reality).

Hamid Karzai said he had always stood by friendly relations with Pakistan, hoping to face the challenge of cross-border extremism together, but his neighbor had failed him, continuing to use "terrorism as a means".
He also called for a review of his country's plans to pursue peace with the Taliban, saying he will focus on talking to governments and not specific groups related to them.
Karzai's comments follow Pakistan's criticism by Admiral Mike Mullen, chairman of the US joint chiefs of staff, who accused Pakistan's intelligence agency last month of playing a role in the recent attack on the US embassy in Kabul. Mullen called the powerful  Sirajuddin Haqqani's network, operating out of Pakistan's borderlands, a "veritable arm" of Pakistan's military intelligence (see – Panetta Briefing 09.20.11).
** US President Barack Obama, on Friday 10/07/2011, voiced concern over Pakistan's military and intelligence services' links with extremists, observing that Washington finds this "troubling". 
Without naming the Haqqani network, with whom the ISI is said to have links, Obama described the extremists as "unsavory characters", adding, "there is no doubt that there's some connections the Pakistani military and intelligence services have with certain individuals that we find troubling".
Obama said Pakistan saw its "security interest threatened by an independent Afghanistan, in part because they think it will ally itself to India, and Pakistan still considers India their mortal enemy." He said Pakistan should realize that "a peaceful approach towards India would be in everybody's Interests."
* Related topics ;





04/2011 -PAKISTAN-U.S AMBIGUOUS TIES









11/2010 -AFGHANISTAN'S MESS






2010 -PAKISTAN'S EXPORT OF TERROR








***************************
Read more