ATTEMPT ON AFGHAN PRESIDENT'S LIFE FOILED
ATTEMPT ON AFGHAN PRESIDENT'S LIFE FOILED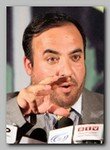 Afghan intelligence officials said, on Wednesday 10/05/2011, they have arrested six people who they believe were planning to assassinate President Hamid Karzai (see – Afghan Reality).
The alleged plotters had recruited one of Hamid Karzai's bodyguards and had possible links to the militant Sirajuddin Haqqani's network, the officials said. But analysts say the arrests may be seen as part of a plan to discredit Pakistan.
Relations between the two countries are tense over alleged links between Pakistan and Haqqani militants. Militants have killed a string of high-profile figures in Afghanistan in recent months (see – Rabbani's Assassination).
"A dangerous and educated group including teachers and students wanted to assassinate President Hamid Karzai," National Directorate of Security (NDS) spokesman Lutfullah Mashal (pic) told a news conference. "Unfortunately they infiltrated the presidential protection system and recruited one of the president's bodyguards."
Lutfullah Mashal said those arrested had ties with a member of Al Qaeda and the Haqqani network based in North Waziristan, in Pakistan's FATA restive tribal belt.
The group was arrested a week ago after members of the elite Afghan forces raided two locations in Kabul's district 15 and in the eastern city of Jalalabad, officials said.
The six had carried out training for the attack last month, they added.
According to counter-terrorism sources, $150,000 (£97,000) had been wired to the group from outside the country. Laptops had been seized showing proposed targets and locations in Kabul, and also movements inside key government institutions, they said. Security officials believe the group had been trained by two Arab instructors in North Waziristan.
* Related topics ;











09/2011 -U.S PENTAGON URGES PRESSURE ON PAKISTAN






09/2011 -AUDACIOUS TALIBAN ATTACK IN KABUL KILLED 25  
*********************************