17 IRANIS KILLED IN BIDGANEH MILITARY BASE EXPLOSION
17 IRANIS KILLED IN BIDGANEH MILITARY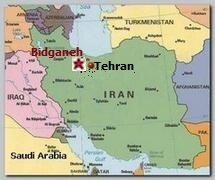 Seventeen soldiers have been killed in an explosion at a military base near Iran's capital Tehran, on Saturday 11/12/2011 noon, officials said.
The blast occurred when weapons, allegedly, were being moved inside a Revolutionary Guards depot, a spokesman for the elite unit told state TV. Local MP Hossein Garousi said "a large part of an ammunition depot exploded," parliament's website reported.
Windows in nearby buildings were shattered and the blast was heard in central Tehran, 40 km (25 miles) away.
Revolutionary Guards spokesman Ramezan Sharif did not say what had caused the "accident" in the village of Bidganeh, near the city of Karaj. "Some of the casualties are reported to be in a critical condition," he said. Ramezan Sharif denied what he said was speculation of Western Media that the military base was linked to Iran's nuclear program. An emergency worker said that 12 people had been taken to hospital.
According to past reports by Iranian opposition groups, already in 2002, the village of Bidganeh, about 45 km North-West to the capital Tehran, is where the Fifth Raad Missile Brigade is stationed in "Sajad" base. The brigade is responsible for launching long range ballistic Shahab 3 and 4 missiles, the most advanced in the Iranian ballistic arsenal.  Satellite images of the site reveal two large military bases near the village. It is not yet fully confirmed that the accident occurred in the same "Sajad" missile base.
The Revolutionary Guard has been targeted by UN sanctions aimed at pressuring Iran to halt uranium enrichment (see -IAEA Report 2011).
There have been occasional unexplained explosions in Iran before (see also – Secret-War). Eighteen people were killed in a blast at a Revolutionary Guard missiles base in
Khoramabad

, in

North-Western Lorestan province, on 10/12/2010, in which 18 people were killed.
The latest blast comes at a time of heightened tensions over Iran's nuclear ambitions.
*
The number of Revolutionary Guards killed in a munitions blast at a base outside Tehran rose to at least 36, according to Iranian media tolls collated by AFP, on Thursday 11/17/2011.
——————————–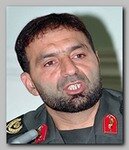 According to the Iranian Fars news agency, later on Saturday 11/12/2011, Brigadier Gen. Hassan Tehrani Moqaddam (pic) was among the Iranian officers killed in the blast. Brigadier Hassan Tehrani served as a researcher at a Tehran university and headed the "Jihad Self-Reliance" unit, mostly tasked with developing arms and missiles following the embargo imposed on Iran since 1979.
Other sources said
Brigadier
Hassan Tehrani was in charge on
of the Revolutionary Guard's self-sufficiency unit.
In an obituary published by the Revolutionary Guards, Hassan Tehrani Moqaddam is described as a "shahid (martyr)" and one of the key figures in Iran's missile program. The Guards vowed to continue in Moqaddam's "path."
Senior Guards member Mustafa Izadi published an article saying Moqaddam's blessed ideas assisted in the victories of Hizbullah in the 08/2006 Lebanon War with Israel and Hamas in the

22-days war with Israel in Gaza Strip, in

12/2008 (see – OPERATION CAST LEAD). He was apparently referring to Moqaddam's contribution to the development of short-range missiles, which Iran transfers to the terror groups.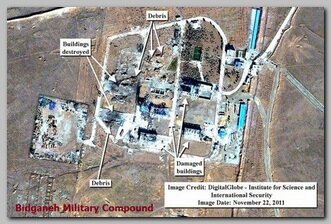 ** Iranian armed forces chief of staff Hassan Firouzabadi denied, on Wednesday 11/16/2011, that Israel was behind the blast. Speaking to ISNA he said that the blast occurred during research on weapons that could strike Israel. 
"This recent incident and blast has no link to Israel or America but the outcome of the research, of which the incident happened as a consequence, could be a strong smack to the mouth of Israel and its occupying regime," he said.
* Related topics ;





10/2011 -IRAN BEHIND LARGE TERROR PLOT IN U.S









07/2011 -NUC-SCIENTIST DARYOUSH REZAEI KILLED IN TEHRAN





************************
ENGLISH.IRID.IR