IRAN'S GRIP ON IRAQ
IRANIAN GRIP ON IRAQ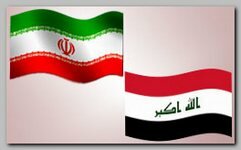 Iran is under growing European, American and international pressure over their military nuclear program with catastrophic consequences if and when Iran will obtain military nuclear capacity. Iran shows no signs of holding back and uses all kinds of measures to evade and bypass the imposed sanctions on its economy.  
While US soldiers in Iraq are still under mortal threat, mainly from pro-Iranian Shiaa groups, equipped with Iranian means, Iran is also tightening its economic grip on Iraq's economy, probably in order to use Iraqi economy, to some extent, as a mean to bypass the escalating economic sanctions imposed on Iran. Iran already enhanced its diplomatic and security cooperation with Afghanistan and prepares itself to fill the vacuum USA is leaving behind (see – U.S VACUUM).
"We agree to increase the value of mutual economic and trade exchange, which is expected to reach 10 billion dollars by the end of the current year, to 20 billion dollars in the near future," Iran's First Vice-President Mohammadreza Rahimi told reporters in the Iraqi capital, Baghdad, on Thursday 07/07/2011, IRNA reported. He also noted that Iranian and Iraqi officials have held "useful and constructive talks" to expand cooperation.

The two sides, on Wednesday 07/06/2011, inked six memoranda of understandings to boost ties in various sectors such as information technology, health and medication and culture.

The documents were signed by the Iranian first vice- president and Iraqi Prime Minister Nuri al-Maliki in Baghdad.

At an economic forum in Baghdad on Wednesday, Iranian businessmen expressed a keen interest in investing in Iraq's vital oil industry.

"We are very, very eager to get involved in energy projects in Iraq. We have knowledgeable engineers in the oil business," Hameed Ridha, commercial manager of the Shahed Oil and Energy Group, told Reuters. "We are very eager to get involved in building refineries."

Iranian businessmen said one hurdle in trading with Iraq was that deals were mainly done in U.S. dollars and euros, making it difficult for Iran, which is under international sanctions.

"The big Iranian companies have the ability to engage in trading and investment in Iraq in oil, gas, petrochemicals, agriculture, heavy industries, electricity and religious tourism," said Hassan Kazemi Qomi, head of the Iraq-Iran economic development committee and Iran's former ambassador to Iraq.

Iran has invested in building power plants, schools, hotels and brick factories as part of Iraq's reconstruction efforts. Iranian exports to Iraq include construction materials, petrochemicals, industrial and medical equipment and food.

Iraq's cabinet approved a $365-million contract with Iran two weeks ago to build a pipeline to move gas from Iran to Iraq for power generation. The five-years deal will generate 2,500 megawatts for Iraq, which has a chronic electricity shortage. The Iranian Revolutionary Guard is involved and in control on all major economic activity in Iran.
* Related topics ;








05/2011 –AHMADINEJAD ESCAPED MYSTERIOUS BLAST






03/2011 –IRAN'S MOMENTUM









10/2010 -IRAN HEADS TO AFGHANISTAN 

 
**********************************
FARSNEWS