– ISRAEL ACCELERATES HUNT OF GAZA'S MILITANTS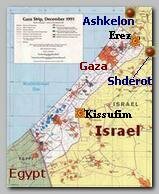 An explosion, apparently caused by an Israeli air strike, killed an PALESTINIAN Islamic Jihad operative and wounded two others in the Gaza Strip on Tuesday 12/27/2011, Palestinian hospital officials said.
According to the official Palestinian news agency WAFA, an Israeli reconnaissance craft fired a missile at a motorcycle in the Dowar Abu Sharkh area killing its rider. A statement by the Israel Defense Forces indicated that the strike was the result of joint actions by Shin.Bet, the Israeli Security Service, and IDF forces and that the target had been a squad involved in recent terror activity.
The Palestinians named the dead man as Abdallah al-Telbani, 22, and said he was riding in a motorised rickshaw in Jabaliya refugee camp when the attack took place. It was not immediately clear if the other casualties were riding in the vehicle with him. After few hours another two militants Rami Douad Jabber Kafarna, 27, a Jebaliya resident, who was active in the armed wing of Hamas and took part in firing high-trajectory weapons at Israel, the IDF said. The second man was Hazam Mohammed Saadi Al-Shakar, 26, an Islamic Jihad militant from Beit Hanoun born 1985 who had been a Hamas activist and hid munitions in Gaza. Rami Kafarna was the initial target when Abdallah al-Telbani was killed but managed to jump from the motorised rickshaw at time and survived the attack. He was followed by Israli UAV up to the second attack.
On Friday 12/30/2011 morning a commander in the Army of Islam Moamen Abu Daff was killed when a missile hit the city's Zeitoun neighborhood (see also – Gaza 12.08.11).
Israeli is carrying such attacks only if there are strong evidence the targets are in an advance stage of executing another terror attack against Israel, especially through Sinai Peninsula, an attack that can complicate the relations with Egypt (see – Eilat Assault 2011).
Related topics : 
–
12/2011 -ANSAR AL-JIHAD IN SINAI RESPONSIBILE FOR ATTACKS  
12/2011 -ISRAEL, ALLEGEDLY, ATTACKED CONVOYS IN SUDAN  
11/2011 -THE COMMING ISLAMIC DECADE IN THE MIDDLE EAST  
*****************************

Read more ;