FOGGY HOPES FOR "DEMOCRACY" IN EGYPT
FOGGY HOPES FOR "DEMOCRACY" IN EGYPT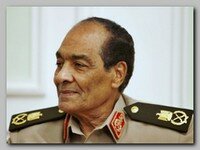 Despite American pressure Egypt said, on Sunday 02/05/2012, it is to put on trial 43 people – including Americans and other foreigners – over the funding of non-governmental organisations – NGOs. Egypt's ruling military council has accused foreign groups of funding street protests against them. It has raided the offices of several NGOs and banned a number of foreign staff from leaving the country (see – EGYPT'S DIRECTION).
Washington has warned it could review US aid to Egypt unless Cairo respects the rights of NGOs. State department spokeswoman
Victoria Nuland
said the US was "deeply concerned by these reports" and was seeking "clarification" from the Egyptian government. Nineteen Americans are among those standing trial. They are accused of "setting up branches of international organisations in Egypt without a license from the Egyptian government" and of "receiving illegal foreign funding," AFP news agency reports (see -Mutual Mistrust). The son of US Transport Secretary
Ray LaHood
is believed to be among those facing criminal charges. The Associated Press news agency says five Serbs, two Germans and three non-Egyptian Arab nationals are among those facing trial.
Campaign group Human Rights Watch called on the Egyptian government to drop the charges against the NGO workers. "Foreign funding is their lifeline. Egypt's military government is now using the kind of tactics used by Zimbabwe and Ethiopia to silence independent voices," the group said.
The announcement came on a fourth day of violent street protests in Egypt amid anger at the authorities' perceived inability to prevent a riot at a football match last week that left 74 people dead.
Cairo's action has widely been seen as an attack on free speech and an attempt by the Supreme Council of the Armed Forces' – SCAF to silence critics of its attempt to put down ongoing street protests.
On Saturday, US Secretary of State
Hillary Clinton
reiterated Washington's warning that aid to Egypt – including $1.3bn of military assistance given each year – would be reviewed.
* Related topics ;


02/2012 -SYRIAN BLOODSHED – HOMS MASSACRE

01/2012 -PAKISTAN'S DEMOCRACY

12/2011 -THE COMING ISLAMIC DECADE IN THE MIDDLE EAST 
**********************