– FRANCE TO EXPEL RADICAL ISLAMISTS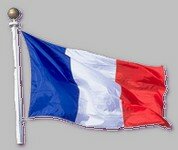 After France last week banned four Muslim preachers from entering the country for a conference of the Union of Islamic Organizations in France (UOIF), citing their "calls for hatred and violence", France expelled two foreign-born radical Islamists on Monday 04/02/2012, a Malian imam Almany Baradji, who had reportedly preached anti-Semitism and advocated wearing the full face veil – which is illegal in France, and Ali Belhadad, an Algerian who has already serve 18 months in France for his part in a 1994 attack on a Marrakesh hotel, in Morocco, in which gunmen killed two people and wounded two others, was also expelled for allegedly linking up again with extremists (see – Europe-fears ).
Other five Imams are about to be expelled soon too. One of the two imams from Saudi Arabia:
Saad Nasser Alshatr
y, who had promoted the isolation of women, was currently out of France but would be refused entry should he try to return.
A Turkish Imam, Yusuf Yuksel, and a suspected Tunisian militant, Malek Drine, are similarly expected to be expelled, with more deportations to follow, officials said. 
* Related topics ; 
03/2012 -19 ISLAMIC MILITANTS ARRESTED IN FRANCE 

02/2012 -DEATH THREAT IN BELGIUM FOR SLAMMING ISLAMIC CODE
***************************