– 4 KILLED IN TOULOUSE SHOOTINGS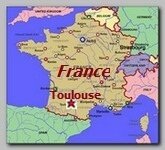 3 Children are reported to be among at least four people killed, on Monday 03/19/2012 at about 08:10, in a shooting outside a Jewish school "Otzar Hatora" in Toulouse, south-west France (see -Itbah Al-Yahud ).
The French news channel BFM said one adult, a teacher, and two children were among the dead. Witnesses told French media that one adult and two children were among the dead. They said a man opened fire on people waiting at a school drop-off point and then fled on a motorbike. Last week an off duty French soldier of Caribbean origin was shot dead by an motorcyclist in Toulouse. 
It comes days after two soldiers were shot dead,

in Montauban,

on 03/15/2012, by a man on a motorbike in the same part of France.

The two were Muslims from North African (Maghreb) descent.

French police said similar ammunition was used in both shootings. 

According to further reports 4 people were killed in the attack, an Israeli teacher
Jonathan Sandler (pic)
, 30, who just recently moved to Toulouse from Israel, and his two children:
Arye
h, 6, and
Gavrie
l, 3. The fourth person killed was an eight-year-old girl
Miriam Monstango
, daughter of the head teacher. A 17-year-old boy was seriously hurt. Police said the shooter used two guns, one of them an automatic 0.45 caliber.  
—————-
* Investigators examining possibility that three soldiers dismissed from army over neo-Nazi activity linked to Monday's attack on Jewish school, previous attacks on French soldiers from their own regiment. The three soldiers were expelled over claims they were neo-Nazis, the local Le Point newspaper reported.
* According to Franceinfo news website, on Tuesday 03/20/2012 afternoon, – the three former neo-Nazi paratroopers were located, interrogated and cleared from all suspicions related to the recent attacks. One of them was already questioned after the Montauban shooting, on 03/15/2012, in which the three French paratroopers were killed.
According to eyewitnesses The man who went on a shooting spree in a Toulouse Jewish school may have recorded his crime with an extreme sports video camera strapped to his chest – equipment suggested by Norwegian killer Anders Behring Breivik (see – Utoeya Carnage ). 
** Eventually, on Wednesday 03/21/2012 at 03:00, the French police closed on, in Toulouse, on
Mohammed Merah
, the man believed to be the gunman on a scooter who killed seven people in South-Western France, is a 23-year-old French Muslim citizen of Algerian extraction. According to the French authorities, Mohammed Merah said he had sought to avenge Palestinian children and to attack the French army because of its foreign interventions. 
* An Al Qaeda linked group 'Jund Al Khilafah' has claimed responsibility for the shootings in Toulouse, according to a statement posted on jihadist websites on Thursday 03/22/2012. 
"On … March 19th, our brother Yousef the Frenchman carried out an operation that shook the foundations of the Zionist Crusaders … and filled their hearts with terror," said the statement apparently referring to the shooting of an Israeli-French teacher and three children at a Jewish school in France. "We claim responsibility for these operations," said the statement, adding that Israel's "crimes … will not go unpunished."
The statement was pulled from some websites shortly after it was posted but remained on several other websites. According to US monitoring group SITE, Jund Al Khilafah has previously claimed attacks in Afghanistan and Kazakhstan. 
* Approximately 85 Frenchmen have been training with the Pakistani Taliban in the North Waziristan FATA area for the past three years, according to French intelligence officials. The Frenchmen operate under the name Jihad-e-Islami and are being trained to use explosives and other weapons at camps near the town of Miranshah and in the Datta Khel area, the officials said. They are led by a French commander who goes by the name Abu Tarek. Five of the men returned to France in 01/2011 to find new recruits, according to the officials. It's unclear whether Mohmmed Merah was among that group. 
* Related topics ; 
***************************
Read more ;