BBC News
– 7 VOLUNTEERS TO IRAQ ARRESTED IN FRANCE
Published
November 17, 2007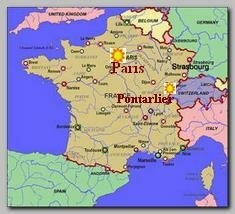 The French police arrested, on 11/13/2007, in the town of Pontarlier, in the French Alp on the border with Switzerland, 7 Islamic militants.
The 7 detainees, all French citizens were born between 1963 and 1985. In the search following the arrests the police found handguns, automatic rifles and ammunition.
According to the French police the 7 suspects took part in weapon trainings and had planned to travel to Iraq to fight against the USA led coalition.
The case was expected to be transferred to Paris anti-Terror judges on 11/16/2007.
*Related topics –
–
2004-5 -TERROR ARRESTS IN FRANCE
05/2008 – FARID BENYETTOU CONVICETED IN FRANCE
PROFILE – MOHAMED BENSAKHRIA
Read more ;