– ABDELHAMID SADAOUI KILLED IN ALGERIA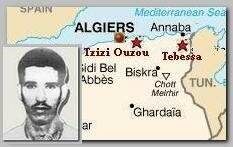 Just about a month after the Algerian Army managed to kill, on 10/07/2007. Harek Zoheir, also known as Sofiane Abu Fasila, the second in command in " MAGHREB al-Qaeda " in Tzizi Ouzou 100 km East to Algiers the Capital. The ALGERIAN army has killed a man believed to be the treasurer of "MAGHREB al-Qaeda".
On Sunday 11/11/2007 the army in Algeria killed Abdelhamid  Sadaoui, also known as Abou el Haythem, with two of his aids, near Tzizi Ouzou, the capital of the Province of Kabylia Mountains. Abdelhamid  Sadaoui was a former leader of Algeria's Salafist Group for Preaching and Combat (GSPC), one of the main groups that formed "MAGHRAB Al-Qaeda" 8 month ago in 03/2007.
After the clash, witch seems to be a well planed raid based on precise intelligenc, the army seized two Kalachnikov rifles, two handguns, 19 mobile telephones, a laptop computer and fake administrative documents.
Hassan Hattab  the former leader of the GSPC who was replaced in 2003 by the more extreme leader Nabil Sahrawi , surrendered to the authorities on 10/05/2007 and blamed "MAGHRAB Al-Qaeda" as wanted to turn Algeria into "a second Iraq".
More 15 low rank Islamic activists were killed by the ALGERIAN army on 11/15/2007 and the day after in Tebessa province, 630 km east of the capital Algiers, based on tips provided by a militant who had surrendered.
Summary ; 
It seems that ALGERIAN Authority have managed to infiltrate "MAGHRAB Al-Qaeda" and to crack down on the organization. 
* Related topics –
–
04/2007 – ALGERIA EXPLOSIONS
PROFILE – HUSSEIN TURI
PROFILE – ABDELHAK LAYADA  
**********************************
Read more ;