– OVER 20 KILLED IN IDLIB'S INTEL' COMPOUND
–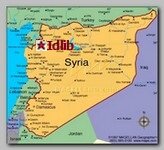 Syria's state-run news agency said, on Monday 04/30/2012, two blasts in the northwest city of Idlib have killed at least eight people and caused serious damage. Idlib has been known for its defiance to the government, but it has been relatively calm in recent days because there have been two UN monitors stationed there.
SANA said civilians and security agents were among those killed in Monday's bombings.State media has blamed the attacks on "armed terrorists," a term it uses to describe those trying to overthrow President Bashar Assad. Activists said the explosions went off outside a security compound and near a hotel where UN observers were staying.
According to the Syrian Observatory for Human Rights, more than 20 people were killed in the blasts. The majority of those killed were members of the security forces, the UK-based group said.
A powerful blast, probably a car bomb, was also reported near the capital Damascus, causing casualties, the observatory added. "A strong explosion shook the suburbs of Qudsiya and it appears it was a car bomb," it said. "Initial reports indicate there are casualties."
Opposition activists in Syria also confirmed that "two huge explosions took place [in Idlib] near two security buildings, one which belongs to the air force intelligence, and the other to the military security.
"Now we have seen in the past two weeks an escalation in the bombings and targeting of the security officers and security buildings, the government has been blaming Al Qaeda for these attacks and they want to make sure this narrative overruns any other narrative.
The blasts took place in spite of a UN-backed ceasefire that came into effect on April 12 but has failed to stop the violence. Veteran peacekeeper Major General Robert Mood urged all sides on Sunday to abide by the ceasefire as he arrived in Damascus to take command of the UN military observer mission overseeing the truce.
The peace plan brokered by UN and Arab League envoy Kofi Annan calls for a commitment to stop all armed violence, a daily two-hour humanitarian ceasefire, media access to all areas affected by the fighting, an inclusive Syrian-led political process, a right to demonstrate and the release of arbitrarily detained people.
Just four days ago, on 04/26/2012, about 70 people were killed in Hama (see – Hama's Bloodshed) in the Masha at-Tayyar district in southern Hama as severla buildings were destroyed by a big explosion. It seems that an improvised workshop of explosives, inside a residential area, was hit by rockets fired by the Syrian army, which ignited a huge blast.
* Related topics ;  
–
03/2012 -27 KILLED IN DAMASCUS DOUBLE BLAST  
02/2012 -THE SYRIAN DiLEMA
**********************
–
DP-NEWS