– 3 HELD IN DENMARK OVER TERROR PLOT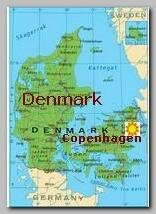 Danish police, on Saturday 04/28/2012, said three men arrested in connection with an ongoing terror probe will be held for four weeks pending an investigation.
The men appeared in a Copenhagen court on suspicion of illegally dealing with firearms by acquiring two Kalashnikov firearms and ammunition. They were arrested at two different sites in the Danish capital on Friday.
The country's intelligence service, or PET, said the arrests were linked to a terror probe and that the men were "suspected of having been in the process of preparing a terrorist act," but declined to provide more details.
The suspects are a 22-year-old citizen of Jordan, a 23-year-old Turkish man living in Denmark, and a 21-year-old Danish national who lives in Egypt. The local Danish newspaper Ekstra Bladet reported that police seized three vehicles in the Copenhagen suburb of Herlev.
According to the indictment, the man from Jordan is suspected of having set up an arrangement to acquire the weapons, the Turkish man is suspected of acquiring them from a fourth man , a 24-year-old Palestinian, also appeared before a judge today.,and the youngest is accused of then possessing them. he Palestinian is charged with being in Denmark illegal .
The Jordanian admitted to involvement in breaking Danish weapons laws, while the other two have denied committing any crimes.
Five other people were arrested in Friday's raids on a series of addresses in Greater Copenhagen have all been released.
The 3 suspects will not face terrorism charges when they are arranged in a Copenhagen court today, but will be charged with illegally possessing weapons.
* Giving the timing of the arrests and the experience in similar cases in the past it is possible that the Danish Herlev cell is, somehow, connected to the Luton 2012 Cell, arrested in UK on Monday 04/23/2012. 
* Related topics ; 
10/2010 -THE COPENHAGEN BLAST

01/2010 -ATTEMPT ON DANISH CARTOONIST FOILED
****************************