– 6 JAILED IN BAHRAIN OVER TERROR
–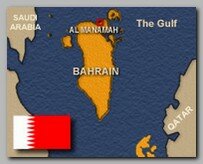 Six Bahrainis have been jailed, on Sunday 05/27/2012, for 15 years each for being part of an Iran-backed terrorist cell planning attacks in Bahrain. They were also convicted of seeking to overthrow the government, suspend the Constitution and encroach on individual freedoms and rights by High Criminal Court (see – Shiite Arc).
It is believed they planned attacks on targets in Bahrain, including King Fahad Causeway, the Saudi Embassy and the Interior Ministry. Three of them are still at large and were sentenced in absentia, including alleged masterminds Ali Mushaima and Abdulraouf Al Shayeb.
The convicted men, who confessed to the charges during initial questioning, caused chaos in court yesterday after the judge read out the verdict, shouting political slogans and police were forced to escort them out of the courtroom.
Two others, a 27-year-old and a 25-year-old bus driver were acquitted of the charges after their defence team successfully argued that they were not involved in the terror cell. They had denied sneaking into Saudi Arabia and then heading to Qatar to meet two of their co-defendants (see – Gulf-Cell 11.12.11). The defendants who entered Saudi Arabia illegally from Bahrain were helped into Saudi Arabia by another man who was found guilty.
Four of the defendants are said to have been arrested in Qatar before being handed over to Bahrain's security services, while the fifth was later arrested in Bahrain. They were reportedly on their way to Iran to receive training in explosives and firearms.
One of the defendants received BD3,000 from Iran's Basij militia group to support the cell, according to case files. A 30-year-old man convicted is alleged to be one of the ringleaders. It is believed the masterminds financed another suspect, who is also at large, to receive weapons training from Iran's Revolutionary Guards.
Investigators earlier said the men were part of a cell that recruited Shiite Bahrainis for sabotage training in Iran. They were handed over to Bahraini authorities on 11/04/2012.
A senior policeman earlier stated phone records were available showing the men had communicated with the head of the Iran-backed terror cell based in the UK.
* Britain has sent a team of forensic detectives from the Metropolitan Police to Bahrain to help investigate the case, sources in London said on Monday 07/02/2012.
* Related topics ; 
*************************.
–