– NAIROBI BLAST INJURED 33
–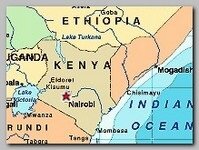 An explosion, on Monday 05/28/2012 evening, ripped through a building full of small shops in downtown Nairobi, injuring at least 33 people, including a woman who blamed the blast on a "bearded man" who left behind a bag shortly before the detonation (see also – Nairobi 03.10.12).
Police officials first indicated that Monday's explosion could have been caused by some sort of electrical malfunction but Prime Minister Raila Odinga said it was deliberate. al-Shabab — an Islamist militant group from Somalia — has threatened to carry out such an attack (see – Almadow Operation). The blast peeled back the front corner of the building's aluminum roof, shattered windows in the building and scattered shoes, clothes and other wares on the ground. A high-rise building with a glass exterior next door was largely untouched.
Speaking to The Associated Press from a Nairobi hospital bed, Irene Wachira said a bearded man came to a nearby stall three times and acted as if he were interested in buying something. Wachira said the third time he came with a bag that he left behind. The blast occurred shortly afterward, she said.
Police officials who first responded hesitated to blame terrorism, given the lack of shrapnel. Kenya Power ruled out an electrical fault as the cause. The police later released a statement saying that the cause of the explosion had not yet been established. Police are investigating the possibility that an improvised explosive device caused the blast, though the police said it was unlikely a conventional bomb had been used.
Since October, a series of grenade attacks has rocked Kenya. The latest happened Saturday night in the sprawling Dadaab refugee camp near the Somali border. Six people were injured in two simultaneous grenades blasts, officials said.
The police said at least 33 people were wounded in Monday's explosion, including five with serious injuries such as burns, fractures and deep lacerations. None of the victims suffered shrapnel wounds, said Thomas Mutie, the acting chief executive at Kenyatta National Hospital.
* Related topics ;
05/2012 -GERMAN SUSPECT AHMED MULLER PROBABLY IN SOMALIA

10/2011 -ONE KILLED IN SECOND EXPLOSION IN NAIROBI
*******************************
Read more ;