UGANDAN POLICE AFTER 2 GERMAN JIHADISTS
UGANDAN POLICE AFTER 2 GERMAN JIHADISTS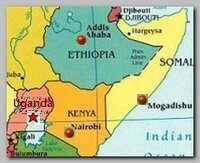 The Ugandan Police, on Saturday 06/02/2012, upped the alert, saying they were hunting for two other top international terror suspects, believed to have sneaked into the country in addition to
Ahmed Khaled Andreas'
who reportedly earlier slipped into the country using a Kalita bus.
Police counter terrorism boss
John Ndugutse
said security was hunting for Ahmed Khaled Andreas, also known as Ahmed K. Mueller,
and
Emrah Erdogan
Alias
Imraan AL-Kurdy
alias
Salahaddin AL-Kurdy
, who he described as foreign fighters boosting the Somalia based al-Shabab terror group, responsible for the 2010 twin Kampala Bombings and is also wanted by the Kenyan police in connection with the last blast in Nairobi on 05/28/2012 (see – Nairobi 05.28.12).
"These are foreign fighters helping the al-Shabab and are behind all these bombings," Ndugutse an assistant inspector general of Police (AIGP) said. He said whereas Martin Muller is of German nationality, Imraan AL-Kurdy, 24, is a German of Turkish origin and all on the international wanted list.
"People should be vigilant and report any suspicious people in the communities. Whoever has information should volunteer it to the Police because it is the only way we can neutralise these people (terrorists)," he said vowing it is only a question of time before they are arrested.
Without disclosing details, Ndugutse said the two are said to have sneaked into Kenya from Somalia and then exited. "Whereas the hunt is on for the one who sneaked into the country on board a Kalita bus, we are also hunting for these two given that a terrorist never works single handedly. They work in cells and these ones are suspected to be in the country," he said.
"We will hunt for them and get them wherever they are or until we are sure they have left the country," he said.
* Related topics ;


08/2011 -UGANDA ISSUED TERROR ALERT

08/2010 -32 ARRESTED IN UGANDA OVER JULY KAMPALA BLASTS

**************************