23 KILLED IN KABUL HOTEL SIEGE
23 KILLED IN KABUL HOTEL SIEGE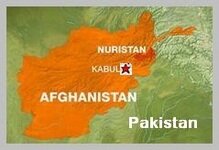 Heavily armed Taliban gunmen stormed, on Friday 06/22/2012, a lakeside hotel near Kabul, sending terrified guests jumping from windows or into a lake to try to escape the onslaught. Eighteen people were killed in the 12-hour rampage, their bullet-riddled bodies strewn on carpets, on the lawn and across a blood-smeared patio (see also – Kabul 04.15.12).
The attack, which ended at midday, was a gruesome reminder of the Taliban's determination to scare the Afghan people and undermine efforts to stabilize the nation as NATO-ISAF prepares to withdraw by the end of 2014 (see – Petraeus W Plan).
The insurgents arrived shortly before midnight at the Spozhmai hotel, situated on the banks of Qargha Lake on the outskirts of Kabul , where Afghan families often go to relax and forget about the war.
The gunmen – toting machine guns, rocket-propelled grenades and vests laden with explosives – first killed the hotel's security guards, then pushed their way inside and began firing at guests who were having late-night meals. Gunfire rang out for hours and black smoke rose from the two-storey hotel as NATO helicopters circled overhead (see also -Kabul 03.27.12). 
Some of the guests escaped while others were held hostage as the attackers battled more than 100 Afghan security forces who rushed to the scene with support from some coalition troops. The forces helped rescue more than 40 guests from the hotel. Fourteen Afghan civilians, three security guards and an Afghan police officer died in the attack, Afghan police said. Another five Talibans were killed too in the attack.
Taliban spokesman Zabiullah Mujahid claimed responsibility for the attack, saying the hotel was targeted because patrons were drinking alcohol and participating in other activities banned by Islam. He said the gunmen separated Afghan civilians from the rest of the people at the hotel and killed only foreign diplomats and Afghan security personnel. That was disputed by
Mohammad Zahir
, criminal director for the Kabul police, who said no foreigners were among the dead.
Though international workers do go to Qargha Lake, Afghans make up the majority of the clientele at the hotels and kebab shops along its shore.
* Read more :


05/2012 -AN AFGHAN PEACE NEGOTIATOR, ARSALA RAHMANI, SHOT DEAD

**************************