FASIH MEHMOOD NABBED IN SAUDI ARABIA
FASIH MEHMOOD NABBED IN SAUDI ARABIA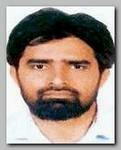 Fasih  Mehmood, was born in 1977 in a village in Darbhanga district of Bihar, India. He is an engineer in profession and is wanted by both the Delhi and Bangalore police. He is a suspect in the 2010 Bangalore Chinnaswamy Stadium blast, on 04/17/2010 (see – IM Arrests 11.30.11) and the Jama Masjid shooting in Delhi on 09/19/2010 (see – Delhi 09.19.10).
Security agencies claim he knows all top operatives of the INDIAN Mujahideen including Iqbal and Riyaz Bhatkal. But his family insists he is innocent.
His wife
Nikhat Parveen
and his family claimed, already in early May 2012, that they have lost any contact with Fasih  Mehmood, who went missing in Saudi Arabia.
Following the arrest of Zabiuddin Ansari, also known as Abu Jindal, and his extradition to India, on 06/25/2012, the authorities in Saudi Arabia confirmed, on 07/01/2012, they have arrested
Fasih  Mehmood. Fasih  Mehmood is likely to be deported to India as early as next week. Sources have told CNN-IBN that the procedures to deport him are already underway.
While in Saudi Arabia both, Abu Jindal Zabiuddin and Fasih  Mehmood orchestrated and coordinated the Karnataka Terror Module arrested in Bangalore in late 08/2012. Fasih  Mehmood was dported back to India on Tuesday 10/23/2012.


* Related topics ;


10/2011 -INDIA CLAIMS TO FOIL PAKISTAMI RELATED TERROR PLOT

09/2011 -12 KILLED IN DELHI HIGH COURT BLAST

07/2011 -2 INDIAN MUJAHIDEEN ARRESTED IN MANKHRUD, MUMBAI
*******************************
IBNLIVE-NEWS