TALIBAN LAUNCHED AN AUDACIOUS ATTACK ON NATO'S CAMP BASTION
TALIBAN LAUNCHED AN AUDACIOUS ATTACK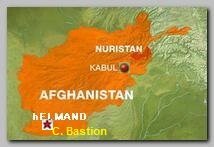 Taliban launched, on Saturday 09/15/2012, a complex assault on a major Coalition military base "Camp Bastion" in Helmand . Two US soldiers were killed and several aircraft and a hangar were damaged during heavy fighting after the Taliban breached the wire. The attack is similar to other attacks carried out by a constellation of jihadist groups in both Pakistan and Afghanistan over the years (see – Minhas Attack).
Camp Bastion is a large base in the middle of the desert in Helmand province that, along with the adjoining Camp Leatherneck, houses more than 21,000 US and British military personnel.
An estimated jihadist fighters breached the perimeter and fought their way to the airfield. Two ISAF soldiers, who are reported to be US Marines, were killed during the fighting and several more were wounded.
NATO-ISAF later confirmed the attack and said that the fighters "infiltrated the perimeter" and "attacked International Security Assistance Force personnel and facilities using small arms, rocket-propelled grenades and suicide improvised explosive device vests."
"The attack, which began shortly after 10 p.m., killed two ISAF service members, wounded several and caused damage to multiple aircraft and structures along the base's flight line.," ISAF continued. All of the fighters were killed except one, who was wounded and is in custody. ISAF said that Camp Bastion "is currently secure" and security forces "cleared the large base of attackers early this morning."
The base is known to host Britain's
Prince Harry
, a helicopter pilot who just arrived in country. Just four days ago, a Taliban spokesman said his group would do everything they could to kill or kidnap him while conducting the "Harry operations."
"We are using all our strength to get rid of him, either by killing or kidnapping,"
spokesman Zabiullah Mujahid told reuters few days earlier on 09/10/2012. . "We have informed our commanders in Helmand to do whatever they can to eliminate him."
The Taliban occasionally launch rockets and mortars at Bastion and Leatherneck, but have yet to launch a massed assault there. Bastion is located in the Dasht-i-Margo, or Desert of Death, in South West Afghanistan in an open area which is not easily accessible.
* Related topics ;


08/2012 -11 TROOPS KILLED IN HELICOPTER CRASH IN AFGHANISTAN

08/2012 -TALIBAN'S DEEP INFILTRATION

08/2010 -KANDAHAR AIR BASE ATTACKED 
*****************************************