– MORE MOHAMMAD CARTOONS PUBLISHED IN SPAIN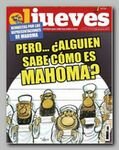 Spanish political satire magazine El Jueves has published, on Wednesday 08/25/2012, a cartoon of the Prophet Mohammad on its cover, soon after violent protests rocked the Muslim world over a U.S. film, Innocence Of Muslims, and French caricatures deemed insulting to Islam (see – Charlie Hebdo 2).
El Jueves' latest edition, which hit Spanish newsstands on Wednesday, shows several Muslims in a police lineup under the title "But…does anyone know what Mohammad looks like?"
Any depiction of the prophet is considered blasphemous by Muslims but the issue has also caused a debate in the West about censorship and freedom of speech.
But in comments to the Huffington Post, editor Mayte Quilez said it was a decision to take a humorous position on a contentious issue. "If you can't depict Mohammad, how do you know it is him in the cartoons?" she asked (see also – Cultural Conflict).
Last week, French satirical magazine Charlie Hebdo published cartoons of the Prophet Mohammad soon after protests against a film made in the United States provoked a torrent of anti-American unrest in Egypt, Libya and other countries. The cartoonn is yet another episode in the ongoing conflict to draw the line of freedom of speech and expression (see – Free-Speech ). 
* Related topics ; 
08/2011 -

JIHADI FORUM THREATS DAVID LETTERMAN

07/2011 -JIHADI ANIMATION TARGETS CHILDREN

07/2010 -MOLLY NORRIS ON JIHADI HIT LIST

04/2010 -MUSLIM GROUP WARNS 'SOUTH PARK' CREATOR

02/2010 -NORWEGiAN MUSLIMS PROTEST OFFENSIVE CARTOON
******************************************