– 9 ARRESTED IN INDONESIA OVER ISLAMIC TERROR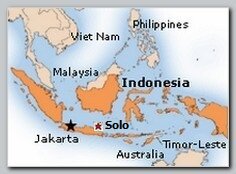 An elite anti-terror squad has arrested nine Islamic militants in Indonesia and seized a dozen homemade bombs from a group suspected of planning suicide attacks against security forces and the government, police said Sunday 09/23/2012..
Two suspects were arrested Saturday in Central Java, Solo town after authorities received information about their whereabouts from other militants in the group who had recently surrendered, said national police spokesman Brig. Gen. Boy Rafli Amar. The two were interrogated and led police to six other members of the group hours later in the same town (see also – Solo 09.25.11). A ninth suspect was arrested late Saturday in West Kalimantan on the island of Borneo.
Amar said two of those arrested, Badri Hartono and Rudi Kurnia Putra, both 45, worked to recruit young men and taught at least one member of the group how to make bombs. "They were the central figures of the group who had planned several terror attacks," Amar said. "They recruited, invited young men to be trained in a military-style jihadi camp and bought bomb-making materials."
Earlier in 09/2012, Indonesian police arrested would be suicide bomber Muhammad Toriq, 32, who wrote to his family that he would be in heaven when they read his farewell note. Instead Muhammad Toriq, a cell phone voucher seller , turned up at a police station wearing a suicide bomber belt.
Muhammad Toriq and his group were planning to attack police stations and a Buddhist organisation. Police has become the most recent target of Indonesia's extremists and Buddhists were chosen because of the repression of Muslim Rohingya in mainly Buddhist Myanmar.
It is most likely that Muhammad Toriq's interrogation led to the recent arrests .
 * Related topics ; 
***************************