– DOZENS KILLED IN AFGHAN'S FARAH COURTHOUSE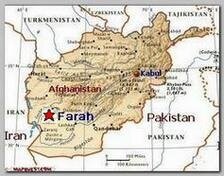 Suicide bombers disguised as soldiers have stormed, on Wednesday 04/03/2013, an court in western Afghanistan, Farah province, killing at least 44 people in an attempt to free Taliban fighters standing trial, officials said.
At least nine fighters were also killed in Wednesday's attack, which occurred in Farah, the main town of Farah province. It was not immediately clear whether the accused men had escaped the court complex, although a hospital doctor said one prisoner was among those being treated for injuries (see also – Farah 11.20.09 ).
The multiple bomb-and-gun assault will raise further questions about the Afghans' ability to secure the country as NATO-ISAF reduces its combat mission by the end of next year (see – Petraeus W Plan).
"I can confirm that 34 civilians, six army and four policemen have been killed and 91 people, the majority of them civilians, have been injured," Najib Danish, interior ministry deputy spokesman, told AFP news agency. "Nine attackers have also been killed" he said.
The death toll was the highest in Afghanistan from a single attack since a Shiite Muslim shrine was bombed in Kabul in December 2011, killing 80 people (see – Shiites 12.06.11 ).
"In total, 34 civilians and 12 [Afghan] security forces have been killed in the attack. We have also discovered the bodies of eight attackers, more than 100 people have also been injured" Mohammad Akram Khpalwak, governor of Farah province said to reporters.
Khpalwak said a group of Taliban prisoners had been brought for trial on Wednesday, without giving further details. Abdul Rahman Zhawandon, spokesman for Khpalwak, said the area was sealed off as firing continued through the day and some attackers had also entered a Kabul Bank office attached to the court building.
*Related topics ;  
–
12/2012 -INSIDE POLICE HQ – AFGHAN POLICE WOMAN KILLED US ADVISER 
12/2012 -AFGHAN INTELLIGENCE CHIEF WOUNDED IN KABUL  
***************************
Read more ;