– ISRAELI RESORT TOWN OF EILAT HIT BY ROCKETS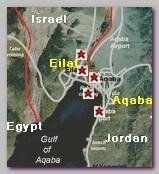 At least two long range Grad rockets hit, on Wednesday 04/17/2013 morning at about 09:00, the Southern resort city of Eilat according to media reports but the army has not confirmed this yet. The rockets landed in the city in open areas, according to Israel Radio. Security forces were sweeping the area in order to find the land site of the rocket. There were no reports of injury or damage (see also -Eilat 04.05.12).
Channel 2 said one rocket fell in the yard of a home, and the second in an open area. A number of residents suffered shock. Two rockets also landed in the neighboring Jordanian resort city of Aqaba, Israel Radio reported (see also – Aqaba 08.02.10).
The IDF deployed an 'Iron Dome' battery outside the southern resort city at the beginning of the month. The missile defense battery was stationed there in anticipation of possible rocket fire from the Egyptian Sinai peninsula.
Eilat mayor Meir Yitzhak Halevi said the Red Sea resort city will "Slowly return to routine" adding he knows jihadi forces are trying to harm Eilat and he hopes the rocket launchers will be caught. Halevi said as far as he knew the Iron Dome anti-rocket battery was not activated.
Security sources believe the rockets were fired from Sinai Peninsula (Egypt) by Al Qaeda affiliated group (see -Jaljalat ). Indeed the Mujahideen Shura Council of Jerusalem Region ( Magles Shourat al-Mujahddin fi Aknaf al-Quds), also known as Ansar Bait al-Maqdas, the Al Qaeda affiliated Salafi group operating in Sinai and Gaza Strip and formed by Hisham al-Saidni, claimed responsibility on the attack. The Egyptian authorities also acknowledged that the rockets were fired from their territory. 
* Hitham Mashal, 24,  a resident of the Shati refugee camp, a rocket manufacturing expert and member of Aknaf al-Quds, Bet Al-Maqdes group, was killed by a Israeli UAV missile attack on his motorbike, on Tuesday 04/30/2013, near his home in Northern Gaza Strip.
Hitham Mashal was active in multiple Salafi-jihadi organizations, and was a weapons expert linked to the twin rocket attack on Eilat, security forces said.
* Related topics; 
–
12/2011 -ANSAR AL-JIHAD IN SINAI CLAIMED RESPONSIBILITY FOR ATTACKS 
08/2011 -AQ EILAT ASSAULT
*****************************
Read more ;