– 4 ISLAMISTS ARRESTED IN ITALY OVER TERROR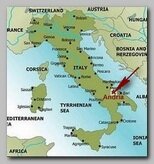 Police in Italy have arrested, on 04/30/2013, four of six men they suspect of planning terrorist attacks. Arrest warrants were issued for the Muslim men, who are accused of targeting the USA as well as Italy. Two men are believed to have escaped to Tunisia. One of the detainees, also from Tunisia,

was later identified as

Hossni Hachemi Ben Hassem,

45, also known as

Abu Haronne

,

the former imam at a Mosque in Andria, Southern Italy, Police said. 
Hossni Hachemi Ben Hassem is married to an Italian local who converted to Islam. He was arrested in Brusells and was linked to Essid Sami Ben Khemais, Ben Yahia Mouldi Ber Rachid and Ben Ali Mohamed.

The other three suspects arrested in Italy were Mohsen Hammai, 48, Nour Ifaoui, 34, both arrested in Scordia, near Catania, and Romdhane Ben Chedli Khaireddine, 32, arrested in Milan, inside viale Jenner's Centro Culturale Islamico (see also – Milan 12.20.07 ).
Police say they found jihadist training videos connected to the men, who were located in Lombardy, Sicily and Puglia and Belgium. 
"Due to their important international contacts and to the kind of indoctrination they received, we're sure they would have been able to carry out an attack," said Mario Parente, General Head of ROS, a special operations group that is part of Italy's carabinieri police force. 
Investigators believe the six men tried to recruit among illegal immigrants in Italy, who then went on to training camps in Afghanistan, Chechnya, Iraq and Yemen. In some cases the new recruits carried out attacks in Iraq. 
The cell was characterized by "fierce anti-Semitism and anti-Western sentiment" and aversion to states viewed as enemies in the context of religious war, a police statement said (see also – Jarmoune's Plot ).
The suspects are accused of conspiracy to commit international terrorism and inciting racial hatred. Police say the suspects were also setting up training camps in order to prepare for attacks in war zones. The arrests are part of an operation against a cell in Andria in southern Italy.
* A fifth suspect
Hamdi Chamari (pic),
24, was arrested on 05/24/2013, he was on board of the boat "Grimaldi", coming from Tunis to Palermo. Hamdi Chamari is a Tunisian with an Italian citizenship, born in Castelvetrano. He was living in Campobello di Mazara. An international arrest warrant was pending on him.
* Related topics ;
***********************************
Read more ;