– 9 FOREIGN CLIMBERS KILLED BY TALIBAN IN PAKISTANI HIMALAYAS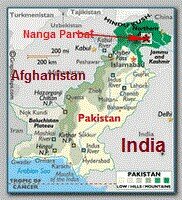 Pakistani Tehrik-e-Taleban – TTP has claimed, on Monday 06/24/2013, responsibility for killing nine foreign climbers in the Himalayas, saying it had created a new wing to attack foreigners to avenge US UAV  strikes.
Gunmen had stormed a base camp 4000 metres above sea level, on Saturday 06/22/2013, night in a remote part of northern Pakistan and killed 9 tourists and one Pakistani guide who were part of a Nanga Parbat mountaineering expedition, police officials said. The dead foreigners, according to local officials, included three Ukrainians, two Slovakians, two Chinese, one Lithuanian, one Nepalese and one American citizen of Chinese descent.
Taliban spokesman Ehsanullah Ehsan telephoned the AFP news agency to say that the killings were intended to avenge the death of the second in command of the Tehrik-e-Taleban (TTP) in a US drone strike late last month. "One of our factions, Junood ul-Hifsa, did it. It is to avenge the killing of Maulvi Wali ur-Rehman," he said. "We want to convey to the world that this is our reply to US drone attacks," he added (see – TTP 08.22.09). Ehsan told AFP that Junood ul-Hifsa was a new wing set up by the Taliban "to attack foreigners and convey a message to the world against drone strikes".
Rehman died on May 29 in a US drone attack on a house in North Waziristan, the most notorious Taliban and al-Qaeda stronghold in Pakistan on the Afghan border.
The night-time raid, which killed five Ukrainians, three Chinese and a Russian, was among the worst attacks on foreigners in Pakistan in a decade and underscored the growing reach of fighters in a highland region once considered secure.
Police said a 15-strong gang of attackers wearing uniforms used by a local paramilitary force, the Gilgit Scouts, arrived at about 1.00 am at a group of tents and ramshackle huts used by hikers scaling the flanks of the snow-covered 8,125-metre Nanga Parbat peak. "The gunmen held the staff hostage and then started killing foreign tourists and made their escape," an official said. A senior government official said a large number of security personnel had been sent to the area.
It takes two days to travel to the base camp, officials said the gunmen could still be trying to escape and have sent military helicopters for search and rescue.
One local guide has been detained for questioning.
* Related topics ;
*********************************************
Read more ;