– 8 ARRESTED IN SPAIN OVER RECRUITING FIGHTERS FOR SYRIA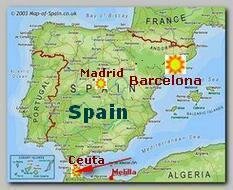 Spanish security forces have arrested 8 suspects in the country's North African enclave of Ceuta accused of recruiting fighters for an arm of Al Qaeda in Syria, an interior ministry statement, on Friday 06/21/2013, said (see also – Ceuta Arrests ).
The statement said that police intelligence services and the military-linked Spanish Civil Guard launched operations against the ring early on Friday morning. "We have broken up a network responsible for sending combatants to al Qaeda linked terrorist groups operating in Syria," it said. According to the ministry, security forces confirmed that several "jihadists" were waiting to travel from Spain to Syria and dozens of people had already been sent from the enclave and other parts of Morocco by the ring. some of them under 18, had left both Ceuta and Morocco territory under the cover of the al-Qaeda-linked network. 
Some of them had taken part in suicide attacks, while others had joined training camps to prepare for armed action, the ministry said. 
Interior Ministry Jorge Fernandez Diaz called the operation a "hard blow" against international terrorism. All the detainees are Spanish citizens, Spanish media reported. 
"This network, based in Ceuta and [Moroccan nearby city of] Fnideq, carried out fundraising, indoctrination, and organising and financing travel, in contact with other terrorists and following the guidelines of the al Qaeda terrorist organisation," the statement said. 
Spain's police had been investigating the network since 2009, and the Civil Guard since 2011, before they joined forces early this year. The eight suspects face charges of "belonging to a terrorist organisation," the ministry said, adding that a National Court judge supervising the investigation had issued search warrants that were being executed on Friday.
In 2012 three people from Ceuta who went to fight in Syria were killed in separate battles, the Spanish news agency Efe reported. And in May 2012, a family from Ceuta reported the disappearance of a young man who they suspected might have been picked up by a militant network to fight in Syria, Efe said. 
Among the other foreigners killed in Syria were 2 Britons, an American woman and an Italian citizen Giuliano D.. 
* Last week, a Jordanian military tribunal jailed 3 men for trying Jihadist Jabhat Al-Nursa Front. in Syria. A court official said the men were charged with "carrying out acts that the government does not approve of and that would expose Jordan to the risk of aggression as well as possession of unlicensed firearms" (see – SYRIAN DILEMA ). 
* Related topics ; 
03/2013 -EX U.S SOLDIER ERIC HARROUN FOUGHT IN SYRIA 
*****************************
Read more ;