– 30 STUDENTS KILLED BY ISLAMISTS IN NORTHERN NIGERIA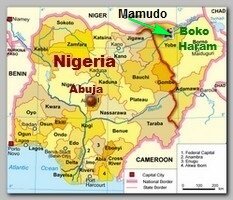 Islamic militants attacked a boarding school in northeast Nigeria before dawn,  on Saturday 07/06/2013,  killing 29 students and one teacher. Some of the pupils were burned alive in the latest school attack blamed on a radical terror group Boko Haram, survivors said. 
Survivors at the Potiskum General Hospital and its mortuary said gunmen attacked Government Secondary School in Mamudo village, 5 kilometers (3 miles) from Potiskum town at about 3 a.m. Saturday. The gunmen are believed to be from the Boko Haram sect whose name means "Western education is sacrilege."  
They killed 29 students and an English teacher Mohammed Musa, who was shot in the chest according to another teacher, Ibrahim Abdu. According to eyewitnesses the gunmen came armed with jerry cans of fuel that they used to torch the school's administrative block and one of the hostels. Local teachers at the morgue said dozens of children from the 1,200-student school escaped into the bush but have not been seen since.
Islamic militants from Boko Haram and breakaway groups have killed more than 1,600 civilians in suicide bombings and other attacks since 2010, according to an Associated Press count.  Scores of schools have been burned down in the past year in northeast Nigeria .
President Goodluck Jonathan declared a state of emergency May 14, and deployed thousands of troops to halt the insurgency, acknowledging that militants had taken control of some towns and villages (see – NIGERIAS NEW FRONT ).
The military has claimed success in regaining control of the area — the states of Adamawa, Borno and Yobe . However, the area covers some 155,000 square kilometers (60,000 square miles) or one-sixth of the sprawling country. 
The militants have increasingly targeted civilians, including health workers on vaccination campaigns, teachers and government workers (see also – Jamaare Abduction )
Farmers have been driven from their land by the extremists and by military roadblocks, raising the specter of a food shortage to add to the woes of a people already hampered by the military's shutdown of cell phone service and ban on using satellite telephones. 
* Related topics : 
01/2013 – THE MALI  CANPAIGN  

08/2012 -

AGAIN!! 19 KILLED IN CHURCH ATTACK IN NIGERIA 
*************************************
Read More ;