– ANOTHER HIZBULLAH LINEUP UNCOVERED IN NIGERIA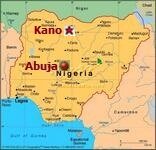 Nigerian authorities have arrested three Lebanese men in northern Nigeria on suspicion of being members of the Lebanese movement Hizbullah. Soldiers uncovered a hidden arms cache that authorities believe belonged to members of the Shiaa political party and armed group, the military and secret police said on Thursday 05/30/2013.
The three suspects were arrested between May 16 and May 28 in the north' biggest city Kano, said Captain Ikedichi Iweha, the city's military spokesman in a written statement. All suspects reportedly admitted to being members of Hezbollah under questioning.
A raid on the home of one of the Lebanese had uncovered 60m"m anti-tank weapons, four anti-tank landmines, two rounds of ammunition for a 122mm artillery gun, 21 rocket-propelled grenades, seventeen AK-47s with more than 11,000 bullets and some dynamite, Cap' Iweha said. "The arms and ammunition were targeted at facilities of Israel and Western interest in Nigeria," Iweha said, but did not elaborate.
The secret service detained the first suspect, Mustapha Fawaz, on May 16 at his supermarket in Kano. His interrogation led to other suspects, including Abdullah Tahini, who was later arrested at Kano airport with $60,000 in undeclared cash. The third, Talal Roda, a Nigerian and Lebanese citizen, was arrested on Sunday 05/26/2013 at the house where the weapons were found two days later. "All those arrested have confessed to have undergone Hezbollah terrorist training." Bassey Etang, the Kano State director of State Security Service, said
Separately, five fighters from Chad and two from Niger were arrested among fighters fleeing a two-week-old offensive against the Boko Haram armed group in the north-east, as they tried to cross the border into Chad, Nigeria's defence spokesman Brigadier General Chris Olukolade said in a written statement. Authorities believe there has been a growing involvement of foreign fighters linked to Al Qaeda in Nigeria on the side of Boko Haram (see – NIGRIAS NEW FRONT ).
Most Nigerian Muslims are Sunni, but there are several thousand Shia Nigerians, a legacy of Muslim Ibrahim Zakzaky's preachings since the 1980s.
Nigeria has a large Lebanese community, but this was the first time Nigerian authorities had said that Hizbullah had an operational interest in the country.
Iran, which backs Hezbollah, has recently been implicated in two incidents in Nigeria. An Iranian and his Nigerian accomplice were sentenced to five years in prison this month for trying to smuggle a weapons shipment heading to Gambia. In February, Nigerian authorities broke up what they described as an Iranian-backed group gathering intelligence about locations (see – Lagos Arrests).
* Related topics ; 
07/2012 -A LEBANESE TERROR SUSPECT ARRESTED IN CYPRUS 

07/2012 -BURGAS BOMBING INVESTIGATION 

06/2012 -2 IRANIANS ARRESTED IN KENYA OVER TERROR 

02/2012 -DELHI'S ISRAELI EMBASSY INVESTIGATION  

11/2010 -

WEAPONS FROM IRAN TO GAZA SEIZED IN NIGERIA  
***************************************
Read more ;