44 MUSLIM WORSHIPPERS KILLED BY ISLAMIC MILITANTS
44 MUSLIM WORSHIPPERS KILLED BY ISLAMIC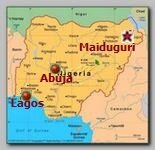 At least 44 worshippers have been shot dead, on Sunday 08/11/2013,  after gunmen opened fire at a Mosque in northeastern Nigeria, government officials said.
The killings occurred during dawn prayers, although reports only emerged on Monday. The attacks over the weekend occurred in the town of Konduga, 35km from the state capital Maiduguri (see also – Maiduguri 06.26.11).
The gunmen are suspected to be from the armed rebel group Boko Haram, which has killed thousands in northern Nigeria since 2009.
We believe the attack was not unconnected with the cooperation residents are giving to security operatives in identifying and arresting Boko Haram members in their midst," a senior government official said on Monday.
A local official said suspected Boko Haram members also raided Ngom village in the nearby Mafa district and shot dead 12 people at their homes earlier on Saturday night..
Some residents spoke of the attackers in Konduga on Sunday arriving wearing army camouflage, a tactic they have used in the past to disguise themselves, though those details had not been officially confirmed.
The violence came as Nigeria's military pursues an offensive in the country's northeast aimed at ending the uprising, with a state of emergency declared in the region in May 2013.
In recent weeks, the military has encouraged the formation of vigilante groups to help authorities locate and arrest members of Boko Haram.
Boko Haram's uprising has left at least 3,600 people dead since 2009, including killings by the security forces, who have been accused of major abuses (NIGRIA'S NEW FRONT).
* Related topics ;














08/2012 -AGAIN!! 19 KILLED IN CHURCH ATTACK IN NIGERIA 
*************************************