– LIBYAN ANARCHI – PM SEIZED BY ARMED GANG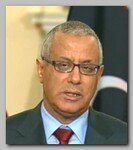 Armed men have kidnapped, on Thursday 10/10/2013 down,  Libyan Prime Minister Ali Zeidan and two of his bodyguards from Corinthia Hotel in Tripoli, the Prime Minister's website reported. 
Abu Dhabi-based Sky News Arabia quoted Libyan security sources as saying that Zeidan was seized from a hotel where he was staying in the Libyan capital and taken to an unknown destination. Just recently, on 10/08/2013,  Ali Zeidan, following the seizure of Sheikh al-Liby, has called on Western powers to help stop the spread of militancy in his country. 
A group of former Libyan rebels, The "Operations Room of Libya's Revolution", an anti-Gaddafi ephemeral group now related to the

Interior Ministry of the

Libyan interim government, claimed that they have arrested the prime minister on Thursday because of his government's role in the USA capture of a top Al Qaeda suspect in the Libyan capital last Saturday. 
According to an unidentified source in the libyan administration PM Ali Zeidan is kept in the Department against Serious Crimes in the building of the Libyan Interior ministry in Tripoli, which suggests the event was just yet another Arab coup. 
Ali Zeidan was released after few hours by his capturers. Earlier NATO chief Anders Fogh Rasmussen called for his release, adding that "stability and the rule of law are very important" as Libya seeks to rebuild. Saif al-Islam Gaddafi, the son of the ousted dictator Muammar Gaddafi, is still held in Zintan by a local Militia despite international efforts to hand him over  to tan International Court. 
* Related topic ; 
*********************
Read more ; 
NEW.COM.AUSTRALIA